Hermina Uittenbogaard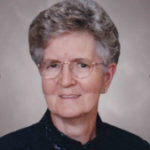 93
Boyden, Iowa
November 16, 2019
Hermina Uittenbogaard, 93, of Boyden, Iowa, passed away Saturday, Nov. 16, 2019, at Pleasant Acres Care Center, Hull, Iowa.
Memorial service was Wednesday, November 20, at First Reformed Church, Boyden, with interment in Sheridan Township Cemetery, Boyden. 
Hermina Jansen was born Feb. 24, 1926, near Sioux Center, Iowa, to Teunis and Dena (Zeutenhorst) Jansen. She grew up near Sioux Center and attended country school through eighth grade.
On Nov. 20, 1947, she married Willis Uittenbogaard. They lived near Sioux Center before moving to southeast of Boyden. In 1962, they moved into Boyden. In 2007, they moved into Christian Retirement Home in Sheldon, Iowa. In January 2015, they became residents of Pleasant Acres Care Center in Hull. Her husband passed away July 25, 2018.
Survivors include four children, Leon "Ike" (Phyllis) Uittenbogaard of Hull, Les Uittenbogaard of North Palm Beach, Florida, Marlin (Tamie) Uittenbogaard of Boyden and Rhonda (Ron) De Groot of Des Moines; 10 grandchildren; 27 great-grandchildren; five great-great-grandchildren; five siblings, Cornie (Anna) Jansen of Hull, Bernice De Vos of Sioux Center, Muriel (Stan) Van Otterloo of Orange City, Iowa, Harriet (Eldon) Tesch of Spencer, Iowa, and Thelma (Ron) Van Zee of Sioux Center; a sister-in-law, Gert Jansen of Sioux Center; a brother-in-law, John Miltenberger of Sloan, Iowa, and numerous nieces and nephews.
In addition to her parents and husband, she was preceded in death by five siblings, Gerdena Jansen, Cora (Arend) Broek, Edward Jansen, Ann (Art) Kamerman and Gordie Miltenberger, and a brother-in-law, Irv De Vos.