Helen Scholten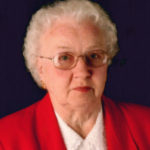 92
Rock Valley, Iowa
November 14, 2019
Helen Scholten, 92, of Rock Valley, Iowa, died Thursday, Nov. 14, 2019, at Whispering Heights in Rock Valley. 
Funeral services were Monday, Nov. 18, at First Reformed Church of Rock Valley with interment in Valley View Cemetery, Rock Valley.
Helen Voetberg was born Dec. 21, 1926, in Stickney, South Dakota, to Harry and Anna (Boxum) Voetberg. On Dec. 21, 1982, she married Peter Boer Jr.  The couple made their home on a farm near Rock Valley. He passed away Oct. 22, 1978. 
On Nov. 4, 1982, she married Andrew Scholten. The couple made their home in Hull, Iowa. He passed away July 19, 1999. Following his death, she returned to Rock Valley. She worked for Hope Haven in the Riverview Group Home. 
Survivors include her sons, LaVerne (Ann) Boer, Harold (Helen) Boer and Wayne (Pam) Boer, all of Lyons, Iowa; daughters, Joan (Dennis) Groeneweg of Rock Valley and Mary Boer of Gillette, Wyoming; eight 12 grandchildren; 20 great-grandchildren; three great-great-grandchildren; sister-in-law, Gert Boer of Sioux City, Iowa, and several nieces and nephews. 
She was preceded in death by her parents; husbands; brothers, Ralph, Evert, Ben Bert and Harold Voetberg in infancy; and sisters, Hatti, Rosie, Margaret and Johanna.