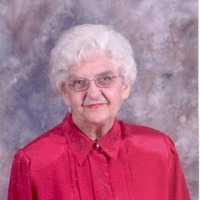 96
Rock Rapids, Iowa
December 30, 2021
Garlene June Mulder, 96, of Rock Rapids, Iowa, passed away Thursday, Dec. 30, 2021, at Good Samaritan Society in George, Iowa.
Funeral service was Thursday, Jan. 6, at First Reformed Church, Rock Rapids.
Garlene De Boom was born Jan. 29, 1925, in Hull, Iowa, to Arie and Marie (Schutt) De Boom. She grew up in the Hull and Sioux Center, Iowa, area. As a young woman, she cleaned houses for others and then worked at Sioux Center Creamery.
On Dec. 12, 1947, she married Henry Mulder. In 1956, they began farming near Rock Rapids. In 1988, they moved into Rock Rapids. Her husband passed away in 2002. She later resided at Premier Estates and George Good Samaritan Society.
Survivors include two daughters and four sons, Cheryl (Le Roy) Hackrott of Harrisburg, South Dakota, Duane (Helen) Mulder of Sioux Center, Dennis (Holly) Mulder of Steen, Minnesota, James Mulder of St. Joseph, Missouri, Linda (John) Meyer of Stewartville, Minnesota, and Gary (Robyn) Mulder of Volga, South Dakota; 23 grandchildren; 41 great-grandchildren; one sister-in-law, Kay Mulder of Ireton, Iowa, and many nieces, nephews, cousins, and friends.
She was preceded in death by her husband; infant son, Robert Mulder; one great-grandson, Gabriel Hackrott; her parents; brother and sister-in-law, Clarence (Gladys) De Boom; sister, Maxine (Lawrence) Van't Hul, and brothers- and sisters-in-law, Dick (Suzanne) Mulder, Tillie (Steve) Vanden Brink, Harry (Nelvina) Mulder, Siena Mulder and Charles (Joyce) Mulder.