Elmer Koedam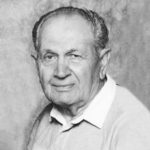 92
Sioux Center, Iowa
Nov. 11, 2019
 Elmer Koedam, 92, of Sioux Center died Monday, Nov. 11, 2019, at Sioux Center Health.
Memorial service was Friday, Nov. 15, at Bethel Christian Reformed Church, Sioux Center, with interment in Valley View Cemetery, Rock Valley, Iowa.
Elmer was born Sept. 3, 1927, in Rock Valley to John and Hattie (Blankespoor) Koedam. He attended country school near Rock Valley through eighth grade.
On June 14, 1951, he married Esther De Wild. The couple farmed and he also worked for many years at Kooima Manufacturing. His wife died Feb. 6, 1991. 
On May 13, 2000, he married Bethal "Beth" Gaut. She died June 9, 2017.
Survivors include four children, Darrell (Lynette) Koedam of Sioux Center, Darla (Doug) Vanden Top of Hull, Iowa, Brenda (Lyle) Mars of Alton, Iowa, and Brian (Carla) Koedam of Sioux Center; 11 grandchildren and 11 great-grandchildren.
He was preceded in death by his parents; his two wives; two brothers, Bill (Gert) Koedam and Kenny Koedam, and two sisters, Henrietta (Joe) De Goei and Alydia Clarke.