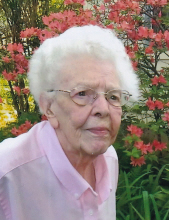 98
Hull, Iowa
March 25, 2020
Ellen Gritters, 98, of Hull, Iowa, passed away Wednesday, March 25, 2020, at Pleasant Acres Care Center in Hull.
Private family graveside service was Friday, March 27, at Hope Cemetery in Hull.
Ellen Gritters was born July 6, 1921, in Perkins, Iowa, daughter of John and Bessie (Vander Berg) Gritters. In July 2018, she became a resident of Pleasant Acres.
Survivors include a sister-in-law, Geri Gritters of Hull.
In addition to her parents, she was preceded in death by a sister, Barbara Wesselink, and a brother, John E. Gritters.