Adrian Van Hofwegen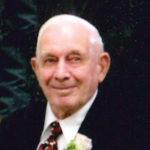 95
Sioux Center, Iowa
May 28, 2019
Adrian Van Hofwegen, 95 of Sioux Center, Iowa, died Tuesday, May 28, 2019, at Royale Meadows Care Center in Sioux Center.
Funeral service was Friday, May 31, at First Christian Reformed Church, Sioux Center, with interment in Valley View Cemetery, Rock Valley, Iowa.
Adrian Van Hofwegen was born Nov. 16, 1923, in Hawarden, Iowa, to Dick and Cora (Faber) Van Hofwegen. He grew up and attended country school near Lebanon, Iowa. He enlisted in the U.S. Coast Artillery Corps. He was united in marriage to Ellen Cuperus. He farmed and milked cows near Colton, South Dakota. In the mid-1970s, he moved to Artesia, California, where he started a lawn mowing business. He later moved back to Sioux Center to retire.
Survivors include his daughter, Noella (Ed) Haveman of Hull, Iowa, daughter-in-law, Sharleen Van Hofwegen of Colton, daughter, Bonnie (Phil) De Stigter of Sioux Center and daughter, LuAnn De Wild of Hull; 14 grandchildren; 25 great-grandchildren; brothers, Case, Dick, Arie, John, Herm, Mart, Bob and Carl; nieces, nephews and other extended family members.
He was preceded in death by his parents; son, Pete; a granddaughter; son-in-law, Eldon De Wild; brothers, Marinus and Bill, and sisters, Kryna Rozeboom and Liz Fluit.