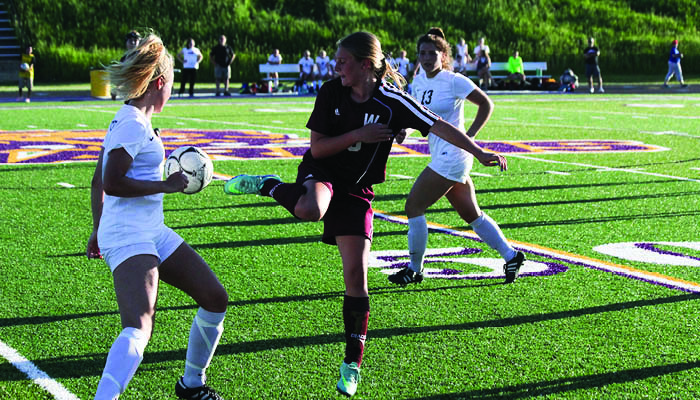 DENISON-The Western Christian girls' soccer team found itself down 2-0 at the end of the first half to top-seeded Gilbert in the Class 1A Region 3 final in Denison Monday, June 5. But the Wolfpack rallied back to force overtime, before a 30-foot goal by Gilbert ended the season in a 3-2 defeat.
Gilbert's first two goals were scored at the 30-minute mark and a few minutes before intermission. Being down 2-0 early in the game was not what Western Christian coach Jocelyn Nollmeyer wanted to see to start the game, but noted she had confidence in her team to make a comeback in the second half.
"Finishing the half 0-2 was not exactly what I'd have liked, but I was still very hopeful and very confident that we would keep this game interesting," she said. "At halftime I told the girls 'the next goal scored is the most important goal of the game, whether for us or for them. If we go up 3-0 we will have a very steep, uphill climb to stay in this. If we make it 1-2, we have a ball game'."
Nollmeyer also noted her team's energy remained high during the break.
"My girls were very chatty at halftime, which is always something positive for me. When they discuss between themselves what they are seeing and what they want to change or have happen the second half, I know they're determined," she said.
Western Christian soon proved that determination on the field. With 13:38 to go in the second half, Erica Bousema got a good run down the sideline. As the Gilbert defense began to close in on Bousema, she dished off a pass to Makenna Kooima from less than 10 feet away and Kooima used her right leg to make the score 2-1.
Two minutes later Erica Bousema was fouled about 45 yards away from the goal, resulting in a free kick for the Wolfpack. Western Christian had a brief group discussion before Jordyn Marra elected to take the free kick. Marra launched a high arching ball to the middle of the field. There to receive it was Kooima, who then found an open Emma Gulker for the game-tying goal with 11:38 to play. The Wolfpack got close two more times prior to the end of regulation, but the ball did not find the back of the net and the game went into overtime.
"Again, neither team scored until the 65-minute mark when Erica found Makenna on a couple one-two passes between the two for a finish. We were right back in this," Nollmeyer said. "Then roughly three minutes later, Makenna found Gulker on a back post finish that Emma took in the air to finish in the top right corner."
Nollmeyer said her team was feeling it prior to the start of the extra period.
"The girls were ecstatic. I could nearly feel the fire coming out of their eyes before we started OT. I reminded them that it only takes one opportunity, one goal, to end this game," Nollmeyer said.
But two minutes into the overtime period Gilbert took a high arching shot from 30-plus yards out. Unfortunately for the Wolfpack, the ball sailed over keeper April Van't Tol to the back of the net to end the game and the season.
"Obviously, my girls were devastated and my heart broke for them," said Nollmeyer. "They played incredibly. It was easily their best all-around game all year, and I can't ask for more than that. My keeper kept us in the game the first half with some phenomenal saves (12 saves in 15 tries total)."
Nollmeyer felt her team should have its heads held high after this game.
"I need to say how proud I am of my girls. Of course coming from behind to tie it, make it into OT, and then not get our trip to Des Moines this weekend is extremely bittersweet. It is for me, it is for them, but I'm hoping that this little game we had is just the beginning of Western Christian's soccer team making some noise," she said.