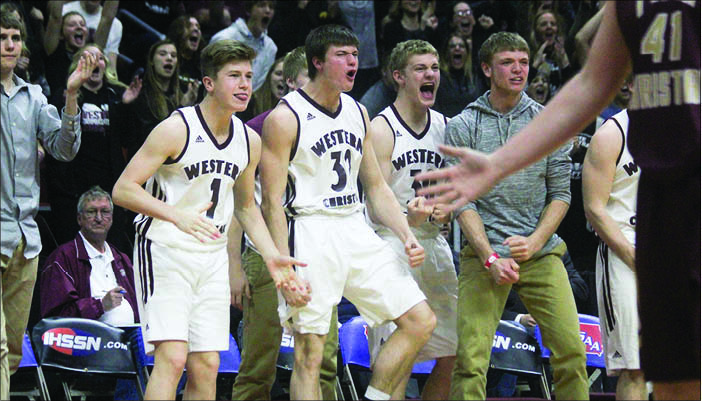 DES MOINES-Top-ranked Western Christian has had a lot of challenges throughout the 2016-2017 season that would normally derail a state-title contender.
One of those challenges was facing a tough team in second-ranked Pella Christian, but the Wolfpack devised a game plan they utilized throughout the entire Class 2A boys' state tournament title bout Friday and came away as back-to-back state champions.
Those challenges throughout the season for the Wolfpack were having Jesse Jansma out to begin the season due to injury and having Ben Granstra out due to the flu at the midway point in the year. With that said, coach Bill Harmsen was pleased to have his team win a record-breaking ninth state title. Western Christian broke its own state record of eight state championships earned in the 2015-2016 season.
"We had adversity throughout the course of the year. It started out with Jesse (Jansma) being hurt. Then we had Ben Granstra get sick for about a week and a half and he wasn't himself. Then when you are playing all these young guys and trying to get them into the mix, it wasn't always easy," he said. "But we ended up beating Sioux City Heelan, then we win our district (tournament) and then to win tonight it's more than I can comprehend. It has just been a real blessing to be able to coach these guys."
Another adversity came Tuesday, March 7, when four players were caught vaping (smoking with e-cigarettes) and promptly suspended for the rest of the season. The Wolfpack, working with a shorter bench and a new starting lineup, wanted to get out to a strong start early Friday.
Western Christian quickly started to accomplish that goal in the first quarter as Ben Gesink hit a layup and a floater from the free-throw line, along with a layup from Jansma to take an early 6-2 lead prior to the first television timeout at the 4:41 mark. Pella Christian clawed back to decrease the deficit to as low as 12-9 with 1:56 left in the period, but a free-throw and a layup from Gesink gave Western Christian a 15-11 edge heading into the second frame.
"Once the whole week unfolded, we knew we had to take control of the game right from the get-go and get our shots," said senior point guard Ben Gesink.
Gesink also noted the game plan helped the Wolfpack maintain that lead throughout the game. Jansma and Gesink hit back-to-back 3-pointers to start the second quarter to give Western Christian a 21-15 advantage. Pella Christian countered with a steal and layup to decrease the deficit to 21-17 prior to the first TV timeout of the second quarter. But the Wolfpack went right back to work and used a 7-3 run to take a 28-20 lead with under 3:10 remaining until intermission.
"There are two TV timeouts a quarter so we said, 'This whole thing is a war and each three-minute stretch is a battle.' We just had to go one battle at a time. We went the first three minutes, took a two-minute break to reenergize, and then said, 'It's 0-0 again' to start the next one (three minutes). We (always) played like it was a tie game. We never played like we were ahead," Gesink said.
The Eagles clawed back with a 3-pointer from the right wing and a layup from the post, making the score 28-25 with under 1:20 left in the half, but a 3-pointer by Caleb Harmsen from the right wing gave Western Christian a 31-25 edge heading into halftime.
The Wolfpack kept its game plan of dividing the game into three-minute spurts and won the first three minutes of the second half 5-4 for a 36-29 lead with 4:49 left on the third-quarter clock. Following a Western Christian turnover, the Eagles trimmed the lead to 5 with a layup, but the Wolfpack ended up winning the next three-minute stretch as they found Harmsen for another 3-pointer, making the score 39-31 with 2:35 remaining in the quarter. Harmsen ended the night going 3-of-4 from the 3-point line and scoring 13 points.
"After I hit that first one it was just a huge confidence boost for me. I was kind of struggling in this tournament with my 3-point shot, but after that first one and that second one, I was feeling it," Harmsen said. "My teammates found ways to get me open and they ran a couple of plays to get me open."
Coach Harmsen added those 3-pointers were a welcome sight.
"It was good to see Caleb step up and hit some shots. The first game he had a tough time and in the second game he kind of had a tough time. But the one he hit in the corner yesterday (in the semi-final against Camanche) was big," coach Harmsen said. "Then he had three today and they came at real big spots. It was good to see him step up in that way."
Pella Christian cut the lead back down to 6 with a layup, making the score 39-33 but Jansma drove the right side of the lane for a layup and Gesink hit a free throw to give the Wolfpack a 42-35 lead with eight minutes left to play. That lead soon opened up to 9 at 48-39 with 6:27 left in the fourth, but the Eagles went on a 9-2 run to cut the lead again at 50-48 with 3:32 left to go.
"They're a very good team. Any time we would make a run, they'd come right back down and hit a shot right back at us. Props to them, they came back and fought tough the whole game," Caleb Harmsen said.
Gesink countered with two free throws, making the score 52-48 with 3:16 left on the clock.
Coach Harmsen admitted he was nervous for his team, but was pleased with how Western Christian responded on defense.
"I was getting a little worried. You're getting to the point where it's the end of the game and the end of a busy week, but, boy, we came with some big stops and some big rebounds," the coach said.
Gesink rewarded his team's defense with a layup, increasing the lead to six6 with 1:50 left to play. Following an Eagles' timeout, Pella Christian got the ball to the low post, but the shot missed to keep the Wolfpack advantage at 6.
An Eagle stepped in front of a Western Christian pass and raced the other way for a layup to make the score 54-50 with 1:08 to play. But the Eagles were forced to put Western Christian at the free-throw line and the Wolfpack went 6-of-8 from the stripe in the final minute to claim their ninth boys' state basketball title in school history.
"I don't know what to think right now. It still hasn't sunk in yet. It's absolutely crazy," Caleb Harmsen said. "We've faced so much adversity this year with injuries and sickness, just everything in the book. But we found a way to get her done. It was awesome."
Caleb Harmsen added that being able to get his first state title as a player on the varsity team and for his father in coach Harmsen was also special.
"It's really, really special. Having him for this whole ride was just awesome," Caleb Harmsen said. "It took us a little while to convince him to come over to the boys, but he did and we worked hard throughout the year. We got it done and it was really special."
The other milestone following Western Christian's victory was the fact coach Harmsen became the first coach in Iowa history to win a state title in both girls' and boys' high school basketball.
"Coach (Jim) Eekhoff retired last March and I thought he was crazy. Then the opportunity came to coach these guys and it was really difficult to leave the girls' program. I helped build that program up and I wanted to see that through, but being able to coach these guys has been an absolute joy," coach Harmsen said. "At some point it will sink in, but I'm not even there yet. When you take over for a guy like Jim, you just hope to hang in there. But, boy, we had great guys and it was good to see us win this one."
The Wolfpack went 20-of-37 from the field for 54 percent and were 7-of-13 for 54 percent from the 3-point line. Western Christian also shot 15-of-22 for 68 percent from the free-throw line.
Individual statistics
Points:Jesse Jansma 22, Ben Gesink 21, Caleb Harsmen 13
Rebounds:Jacob Vis 11, Ben Gesink 7, Jesse Jansma 6, Layne Miller 5
Assists:Ben Gesink 4, Jacob Vis 4, Jesse Jasnma 3
Steals:Jesse Jasnma 2
Blocks:Jacob Vis 1