Willis Uittenbogaard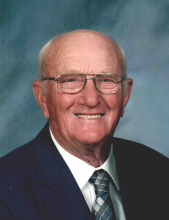 91
Boyden, Iowa
July 25, 2018
Willis Uittenbogaard, 91, of Boyden, Iowa, passed away Wednesday, July 25, 2018, at Pleasant Acres Care Center, Hull.
Memorial service was Saturday, July 28, at First Reformed Church, Boyden, with interment in Sheridan Township Cemetery, Boyden.
Willis Gerald Uittenbogaard was born Oct. 30, 1926, at Archer, Iowa, the son of Gerritt and Nelsena (Boerhave) Uittenbogaard. He grew up near Boyden where he attended country school and Boyden High School. He then helped his father on the farm. Later, he began employment with Sioux County, doing road maintenance out of the Boyden shed.
On Nov. 20, 1947, he married Hermina Jansen. The couple made their home on her family's farm. They then moved to a farm southwest of Boyden where he also drove an egg route for Boyden Produce. In 1962, they moved into Boyden. In 1977, he began a 28-year career at Demco in Boyden. During retirement, they spent 13 winters in Mesa, Arizona. In 2007, they moved to Christian Retirement Home in Sheldon, and in January 2015, they transferred to Pleasant Acres Care Center in Hull.
Survivors include his wife; three sons and a daughter, Leon "Ike" (Phyllis) Uittenbogaard of Hull, Les Uittenbogaard of North Palm Beach, Florida, Marlin (Tamie) Uittenbogaard of Boyden and Rhonda (Ron) De Groot of Des Moines, Iowa; 10 grandchildren; 26 great-grandchildren and three great-great-grandchildren.
He was preceded in death by his parents; two brothers, Art and Ed Uittenbogaard, and a sister, Margaret Moret.