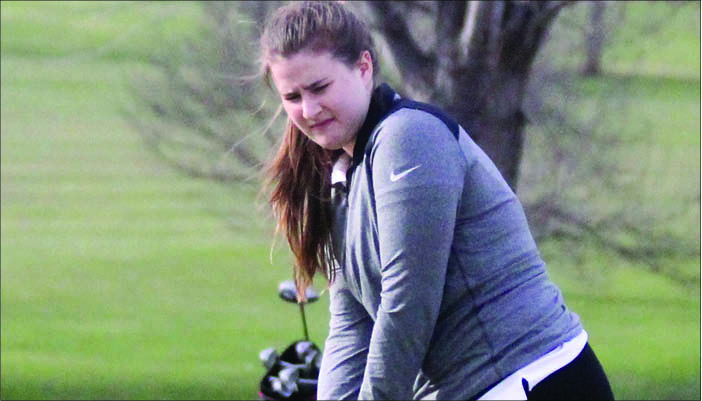 HULL-The Western Christian girls' and boys' golf teams took on Marcus-Meriden-Cleghorn/Remsen Union in a non-conference golf dual at Rolling Hills Golf Club in Hull Tuesday, April 4, and both Wolfpack teams came away with victories.
The Western Christian girls defeated the Royals 220-238, led by Jaycie Van Zee and Aubrey Kooima both shooting 53s which tied with two golfers from MMC-RU for first place individually overall. Makenna Kooi placed third on the squad with a nine-hole round of 55.
"I was very happy with how the girls played today. With limited practice time, I thought we shot pretty well," said Wolfpack girls' coach Bill Harmsen. "We struggled around the green, but that is something we can work on and get better with. Overall, this was a very good start to our season."
The Western Christian boys defeated the Royals 161-191, led by Carter Broek who took a first-place medal with a nine-hole round of 38 and Colyn Oostenink with a silver medal round of 40.
"Pretty nice weather for our first meet. We shot very well. This 161 is an excellent score," said Wolfpack boys' coach Jim Eekhoff. "I was also very pleased with our balance."
Western Christian girls' and boys' non-conference golf vs. Marcus-Meriden-Cleghorn/Remsen Union at Rolling Hills Golf Club in Hull
Girls' team results:Western Christian 220, MMC-RU 238
Wolfpack girls' cards:Jaycie Van Zee 53, Aubrey Kooima 53, Makenna Kooi 55, Megan Hengeveld 59, Anna Back 69
Boys' team results:Western Christian 161, MMC-RU 191
Wolfpack boys' cards:Carter Broek 38 (first place individually), Colyn Oostenink 40 (second place individually), Taylor Westphal 41, Cade Broek 42
Wolfpack boys' cards not counted toward the team score:Brennan Kooi 42, Caleb Harmsen 44