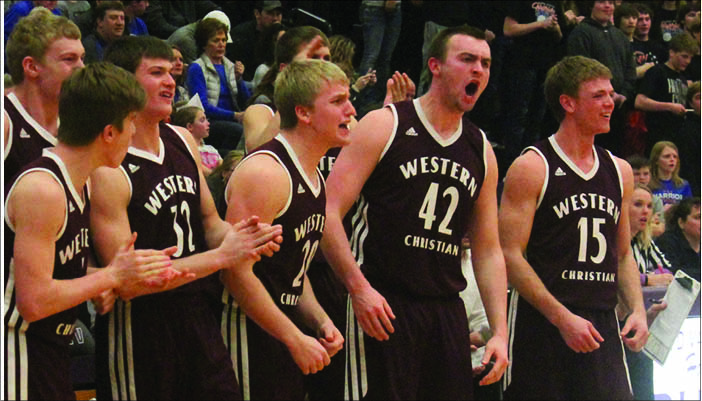 ORANGE CITY-Western Christian had a hard time keeping Sioux Center in front of itself on defense, resulting in early foul trouble but the top-ranked Wolfpack did not hit the panic button and made enough plays down the stretch to defeat the Warriors 71-67 in the Class 2A Sub-state 1 game Saturday.
This was the fourth-straight meeting between Sioux Center and Western Christian in a sub-state game. In the end, coach Bill Harmsen was pleased his team came away with a victory and a fourth-straight state tournament berth, but noted the system for the district tournament is flawed.
"It is four years in a row that we have had to face Sioux Center in a sub-state game and that is an absolute shame," he said. "It's wrong. This (Sioux Center) is a great team and it is too bad that only one of us can go on to state."
But that was how the stage was set up for both teams Saturday. The Warriors got out to a fast start, using a goal-tending call on Western Christian and two layups to take an 11-4 lead midway through the first quarter. The Wolfpack clawed back to trim the deficit to 3 twice at 11-8 and 15-12, but two free throws gave Sioux Center a 17-12 edge heading into the second frame.
The Warriors had another fast start to the second quarter with two-straight baskets to pump their lead up to 21-15. Once again Western Christian, inched back by using a 3-pointer, a transition layup from Ben Gesink and four free throws to spark an 8-0 run and hand the Wolfpack its first lead of the game at 23-21.
Harmsen noted his team's defense was what allowed Western Christian to take the lead in the second quarter.
"In the second quarter, our pressure defense came through for us. We did a lot of subbing ahead of time and I thought that wore Sioux Center down a bit toward the end," Harmsen said. "(However) I thought our fouls in the first quarter were reactionary (the Wolfpack had eight team fouls at the end of the first period). They (Sioux Center) were more physical and more quicker to the ball and we ended up just fouling them."
Sioux Center had similar troubles as both teams got into the double bonus with 4:34 left to play in the half. But the Warriors got to the charity stripe a little more often than Western Christian, and Sioux Center took a 31-29 advantage into the break.
The two squads came out of the locker room with energy as the score was tied twice at 31-31 and 35-35 to start the third quarter. Gesink said the back-and-forth play with Sioux Center came as no surprise.
"It was a very physical game. They're all-around, great players. They can get to the basket and can get to the hoop at will. It's really tough to play defense against a team like that," Gesink said.
The Warriors soon put that athleticism on display, picking up two steals to spark a 6-0 run and a 41-35 advantage. Following a 30-second timeout by the Wolfpack, Western Christian slowly inched its way back again and trailed 45-44 heading into the final eight minutes of play.
It was the Wolfpack that picked up the early momentum to start the final eight minutes as Jacob Vis scored 3 quick points on a layup and one free throw, and Tyson Kooima drained a 3-pointer from the left corner to spark an 8-0 run that gave Western Christian a 53-45 edge. That lead stayed between 6 and 8 points for much of the final 6 minutes of play, but two 3-pointers by the Warriors kept them within reach at 64-60 with under 1:00 remaining. Sioux Center never reclaimed the lead as Western Christian went 13-of-16 from the free-throw line down the stretch to seal its fourth-straight ticket to state.
"I'm just blessed beyond belief. It couldn't have imagined going into high school and being able to go to the state tournament four times in a row," said senior forward Jesse Jansma. "I just have to give glory to God. He has blessed me with great teammates and coaches to help us get it done, and we got it (a state berth) done one more time."
Despite being down in the first quarter and mid-way through the third, Harmsen said he never felt his team was too anxious.
"I didn't feel we were nervous at all. I felt we were tuned in," he said. "Granted Jesse Jansma picked up two quick fouls, but he did not panic. Then Tyson Kooima and Carter Broek picked up some early ones (as well), but there was no panic. We just kept working through that stuff. We just stayed tough enough and gritty enough to work our way through it. I'm just so proud of them. They're a great group of kids."
Harmsen added that he's glad to be representing Western Christian once again down in Des Moines.
"I'm living a blessed life. We went five years in a row with Jim (Eekhoff as an assistant) from '07-to-'11 then for the girls for five (straight years). To be back again is really humbling and kind of got me at the end of the game," he said. "It's a tough grind, but to be able to get these guys down there, it's something more than words can say. We're glad to have the opportunity to represent our school again."
The Wolfpack finished the night going 20-of-45 from the field for 44 percent and were 5-of-18 for 28 percent from the 3-point line. Western Christian also shot 18-of-26 for 69 percent from the charity stripe.
Individual statistics
Points:Ben Gesink 26, Caleb Harmsen 14, Tyson Kooima 11, Jesse Jansma 11
Rebounds:Jesse Jansma 6, Jacob Vis 6, Ben Gesink 5, Tyson Kooima 5
Assists:Jesse Jansma 4, Tyson Kooima 3
Steals:Tyson Kooima 6, Ben Gesink 2
Blocks:Jacob Vis 2