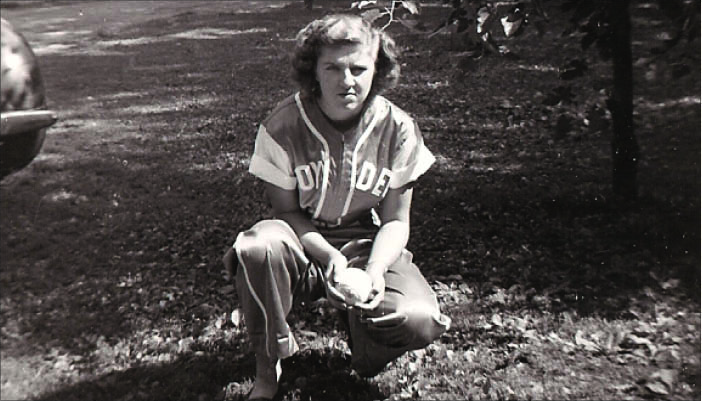 Iola "Olie" Walinga will be memorialized Saturday afternoon when a bench in her honor will be dedicated at the west ball diamond in Boyden. Walinga served as pitcher for the Boyden Girls' fastpitch softball team for many years and was well-known for her prowess on the mound. The dedication ceremony, with family members and former teammates present, will begin at 4 p.m.
"Mom's life was softball and so we wanted to have something at the ballpark that would last," explained Beth Sutton.
Olie began playing fastpitch softball about 1950 when she was about 20 years old and played over 30 years on the diamond where the bench will be placed.
At that time, there were no high school sports, so a town team kept residents entertained. The Boyden Girls' team usually practiced in the evenings after work. "It gave them something to do. It was probably the most social thing they had to do," Sutton chuckled.
The team often played quite a distance away. In one week, Sutton noted, they played in Sioux Falls, South Dakota, on a Thursday evening and on the following Monday, they played in Sioux City, Iowa. "If you think back to the 50s and their modes of transportation, that was pretty amazing to me that in a week's time they would go to Sioux City and Sioux Falls within a week," Sutton said.
Most of the team's uniforms, bats, spikes and other equipment were acquired through local business sponsorships. At one time, 25 local businesses represented Olie's team. The Boyden Girls wore green and white uniforms. The spikes were very sharp and dangerous. Olie's beloved spikes were recently disposed of because the leather was deteriorating after so many years of use. Sutton said, "Those were amazing; you watched out for those because those were nasty. If you got spiked, you had an injury!"
On Saturday, Aug. 9, 1952, the Boyden Girls played in a game against the Kansas City Skeletts. After winning the game, Olie was asked to be a part of the Kansas City team. However, Sutton said sadly, "Grandpa wouldn't let her go."
Olie continued playing for the Boyden Girls team until she was in her 50s. To practice, she threw 100 pitches a day, mostly to her sister, Norma "Normie."
"She just had a love of the game," Sutton explained.
Olie's husband, Ed, and their five children, Bruce, Brad, Bevin, Beth and Becky, spent lots of time in a station wagon going from town to town to watch games and support the team. Because of these regular family outings, the children learned to enjoy the game too, which has been passed on to Olie's grandchildren. Her favorite teams were the Twins and the Cubs and she was excited to have seen some professional games in person.
Olie was also an avid bowler and served as team captain for many years, frequenting the Boyden, Sheldon and George bowling lanes. After retirement, Olie became a dedicated member of the Boyden Belles Red Hats. "That was very enjoyable after she didn't have sports in her anymore. It was a good social thing," Sutton explained.
Olie passed away at age of 83 on Nov. 1, 2013, after a lengthy illness.