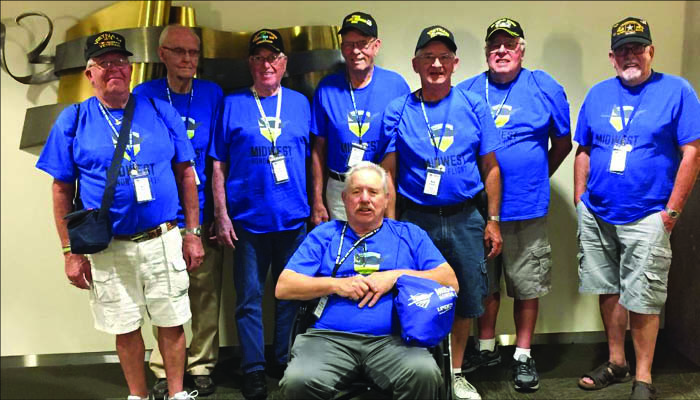 A recognition banquet at Calico Skies Winery near Inwood, Iowa, Monday evening, Aug. 21, served as a send-off for 85 war veterans and their guardians before leaving on Honor Flight Mission #1 to Washington, D.C. the next morning. Those making the one-day trip from Hull were Korean and Vietnam veterans,Harry Klay (accompanied by Larry Hoekstra); John Boogerd (accompanied by Gail Schenk); Tim Kooima (accompanied by his son Glenn Kooima); Bob Dykstra, Art Kooi, Jim Keizer, Jay Stellinga and Russ Vander Schaaf.

The tripwas sponsored by Midwest Honor Flight which started in March 2017 to honor veterans with anall-expense-paid trip to the nation's capitol.Each veteran applied for the opportunity to take the special trip to view the memorials in Washington, D. C.ouvenirs were the only expenses the veterans had.

After leaving the Sioux Falls, South Dakota, airport at about 6 a.m., the grouplanded at Reagan National Airport in Arlington, Virginia, around 9:15 a.m. EST where a welcoming committee met them. Bob Dykstra, aHullveteran, said, "It was a great reception there!" Throughout the trip they received the royal treatment.

Four chartered buses transported them from the airport around the area. "We had a police escort throughout Washington, D.C.. whenever we moved," Dykstra said. "It was really impressive." The special treatment allowed them to move easily in the heavy traffic.

Veterans observed the Changing of the Guards at the Tomb of the Unknown Soldier. "It was a really neat ceremony to watch," Larry Hoekstra explained. He noted the emotional interactions of many veterans at the various memorials. Other favorites included Arlington National Cemetery, Memorial Wall that listed the names of the fallen, Fountains of World War II, Korean War Memorial, and Pool of Remembrance.

The 100-plus-degree heat index slowed them down while they observed the various monuments, making the need for guardians evident. Wheelchair use, donated by Hope Haven of Rock Valley, came in handy, too.

Iowa's Lt. Gov. Adam Gregg was also along for the trip. "It was quite an honor for us to have the lieutenant governor on the flight with us," Dykstra said. Gregg surprised his grandfather, Glenn Gregg, a World War II veteran from Hawarden, Iowa, as his guardian.

Another surprise came on the flight home when the veterans received some very special mail to read before arriving back in Sioux Falls. Since this was their "One Final Tour," this gesture meant a lot to them and it gave them the closure many of them had never received.

The group arrived back in Sioux Falls at 8p.m. Fire trucks lined the runway, just as they had when they'd departed. A surprise Welcome Back reception greeted them in the terminal.

Several veterans were interviewed at the airport. KSFY TV, a Sioux Falls TV station interviewed Art Kooi, a Hull veteran. Kooi told me, "It was a good experience. It was way overdue."

Honor Flight's mission honors veterans, recognizes them, and helps them heal. Gail Schenk said, "The veterans enjoyed their trips. They all have a story to be told."

Mission #2 of Midwest Honor Flight is tentatively scheduled for next spring. For more information visit www.midwesthonorflight.org.