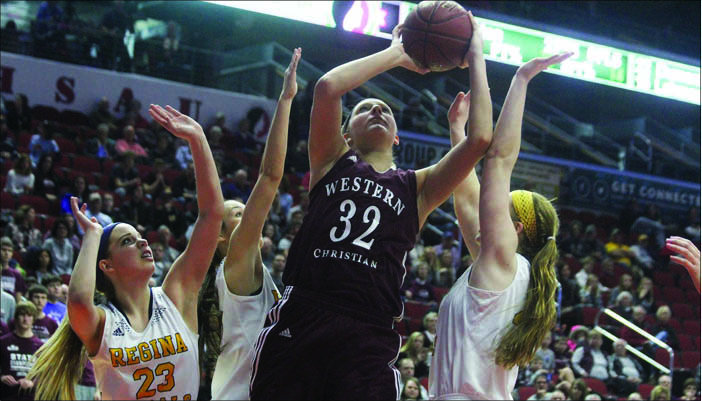 DES MOINES-Western Christian faced top-ranked, undefeated Iowa City Regina in the Class 2A state semi-final game Thursday, but the Wolfpack went inside to the post early and often to come away with a 71-49 victory to send them to their second-straight state title game.
Ashtyn Veerbeek ended the afternoon scoring a team-high 31 points, tying a Class 2A state tournament record. The record was set back in 2015 by Nicole Miller of North Linn.
"I didn't even realize that, but that's awesome. She beat me my freshman year (in the 2015 Class 2A state title game) and I know how good a player she is, so it's an honor to be recognized with her," Veerbeek said.
Coming into the game, Regina had an undefeated record at 26-0 and was the top-ranked team in Class 2A. Erica Bousema said Western Christian was thinking about that fact after their victory over North Linn Monday, Feb. 28.
"Coming into the game, we knew we were the underdog, but we didn't want that to effect us," she said. "We just had to have faith in our teammates and just trust what we have been doing all season."
That trust was on display right from the opening tip as the Wolfpack nailed two 3-pointers, one from Erika Feenstra and another from Veerbeek, to make the score 6-0. Following a Regals' turnover, Jessi DeJager got the ball in the post and scored a layup to increase the early first quarter run to 8-0. Iowa City Regina countered with two baskets to decrease the deficit to 10-4. But Western Christian ended the first frame on a 10-3 run, taking a commanding 20-7 lead into the second quarter.
"At the end of the first quarter, when it was 20-7, I could not believe we came out that strong. Our defense was awesome and I couldn't believe how big a lead we had. We just had to keep that going," Bousema said.
The Wolfpack quickly increased their margin to 25-7 to start the second period, but the Regals' 2-2-1 full-court trap on defense soon started to take affect. After two Western Christian turnovers in the span of about two minutes, which trimmed the Wolfpack lead to 29-16, Coach Justin Negen was forced to signal for a timeout.
"They (the Regals) are a trapping team and in that second quarter they flustered us a little bit, getting that ball trapped on the sideline," Negen said.
Following the timeout, Veerbeek got a layup from the post to make the score 31-16, but Iowa City Regina used a 6-2 run to end the half and shrink the deficit to 11 points for the intermission.
The game remained close to start the third frame. A layup from the post by Veerbeek and two free throws by Iowa City Regina kept the score at 11, 35-24. But Western Christian quickly used its height to its advantage, breaking the Regals' press and getting the ball down low to Veerbeek, Feenstra and DeJager.
"Having Jessi, Ashtyn and Erika in there, we had a (big) height advantage in the post. Our guards are also taller than their guards so that gave us an extra advantage," Bousema said.
"That (size) has been an big advantage for us all year," Negen noted. "We're starting 6-foot-5, 6-foot-1 and 6-foot-2 and a lot of 2A teams aren't used to seeing that."
But Negen was mostly pleased with how that height helped on the defensive end of the floor. The Regals were held to 15 points for the rest of the third quarter and Western Christian held a 56-39 advantage heading into the fourth. Iowa City Regina was then held to 10 points in the fourth frame while the Wolfpack scored 15 and walked away with an impressive 71-49 upset victory.
"I thought, defensively, it (our height) was where it made the biggest impact for us. Just being able to get our hands up on their shooters and challenging everything. That was a big issue for them (Iowa City Regina)," Negen said.
That height also played a difference in the rebounding numbers. The Wolfpack had 38 total boards and the Regals had 28. Of those rebounds for Western Christian, seven of them came on the offensive end.
"Offensive rebounds were the difference. We could just fly in there with our length and height, just get those boards and just go up strong," Veerbeek said. "We had a couple of inches on every girl on that team, so it was easy for us."
The win sent Western Christian to the state title for the fifth time in six years.
"I'm just so happy for our kids to get to this stage again. They've worked so hard at it," Negen said. "Everything's kind of a whirlwind right now, but we'll put together a great game plan tonight. The best thing is we get to be a team again tomorrow night."
The Wolfpack would like nothing more than to get that elusive state title, especially after losing to arch-rival Unity Christian by 1 point in last season's title game.
"I think every team hopes for a state championship. Ending my senior year with a state championship would really top it off," Bousema said. "We don't want to dwell on the past, but we still have that chip on our shoulder when we lost by 1 point. Nobody wants that to happen. I think that will give us that extra drive to finish this time."
The Wolfpack played Treynor in the Class 2A state championship game Friday.
Western Christian went 26-of-46 from the field for 57 percent and was 4-of-15 for 27 percent from the 3-point line. The Wolfpack also shot 15-of-21 for 71 percent from the free-throw line.
Individual statistics
Points:Ashtyn Veerbeek 31, Erika Feenstra 17, Karsyn Winterfeld 11, Jessi DeJager 8
Rebounds:Ashtyn Veerbeek 10, Erika Feenstra 6, Karsyn Winterfeld 5
Assists:Erica Bousema 5, Karsyn Winterfeld 4
Steals:Erica Bousema 3
Blocks:Ashtyn Veerbeek 6, Karsyn Winterfeld 2