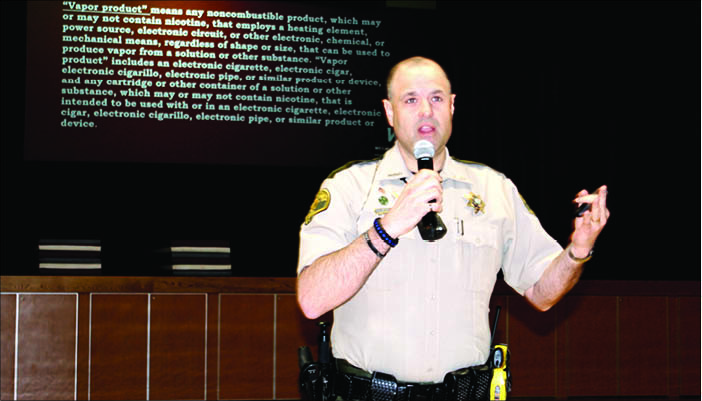 The topic of vaping has been on the minds of students, parents and faculty at Western Christian lately. Two seminars addressing the subject were offered Monday, April 3 — one for high school students and another for concerned parents, which about 50 people attended.
Speakers included Shay Davis, a tobacco prevention coordinator, and Terry Bos, a nurse, both from Community Health Partners of Sioux County. Sheriff Waylon Pollema, the school resource officer, also spoke. Dan Barkel, principal at Western Christian, felt it was important to have the seminars so students and parents got the facts. "I believe the seminars help parents to know what vaping is all about, where it came from, and the health risks associated with it," Barkel explained. Since the problem has grown over the last several years, Barkel also went over school policy and the repercussions of an offense with students.
E-cigarettes are often referred to as hookah pens, box mods, e-Juice, vape pens, cigarettes and e-cigs. They all work basically the same and contain a battery and emit a vapor that is inhaled into the lungs. At the parent seminar, attendees asked a lot of questions about how these devices are used, potential health risks and potential addictiveness, along with smell, school policy, underage use and the law. "I think their main concern was the health and safety of their children," Barkel said.
Talks focused on the dangers of using e-cigarettes and Davis and Bos explained that just because the vapor isn't smoke, doesn't mean it's not dangerous. According to them, it's an obvious aerosol type-vapor that's inhaled into the lungs.
Bos stressed the use of these products can affect adolescents' brain development, which isn't complete until about the age of 20 or 21. The formation of the brain cortex, which is responsible for higher thought processes such as speech and decision-making, and processing different types of sensory information can be affected. Nicotine changes your brain and kind of rewires it, disrupting your attention, ability to learn and to retain information.
Pollema feels the effects vaping may have on the teen brain is very scary when it can alter it's growth. "To me that's a really big deal," he said.
Vaping products are so new that the health effects can't be determined yet. This type of research usually takes about 30 to 40 years to come full circle. The vapors can go much deeper into the lung tissues than a regular cigarette does, which has been proven with just even short-term vaping and problems with lung irritation and infections like bronchitis, pneumonia, and lung cancer.
"Your lung tissue is extremely delicate. God did not design for you to breathe all sorts of crap into your lungs. He designed them to breathe air," Bos said.
Since there's no smoke smell, some students think it's a safe alternative. It's probably easier to hide too. But Pollema reminded them, "The vape pens, the e-juice, and all of that stuff is considered illegal if you're under the age of 18."
A minor in possession of e-cigarette paraphernalia would receive the same ticket as someone in possession of tobacco products.