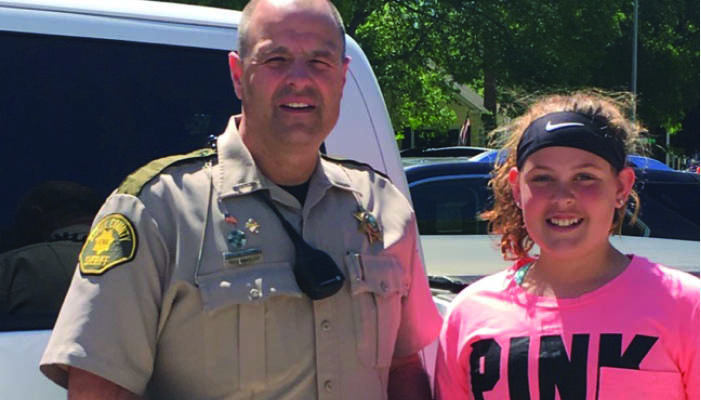 Sixth grade students at several area schools took part in the second annual essay contest sponsored by the Sioux County Sheriff's Office. They wrote about "Courage," describing what courage meant to them, how they showed it in themselves or others and how it makes a difference in their own or others' lives.
Sheriff Dan Altena, Waylon Pollema, student resource officer deputy, and Julie Visscher's honors English class at Boyden‐Hull High School in Hull reviewed the essays to choose the winner.Pollema said, "There were many well‐written essays again this year, which made the decision difficult."
The winner this year was Katie Van Den Top, a Boyden‐Hull elementary student. Katie is the daughter of Brent and Amy Van Den Top of Hull. Katie was shocked when Pollema came to school and announced to her class she'd won the contest. "I didn't expect it at all!" she said. It was a required assignment the entire class did and she never gave it much thought again after turning the assignment in.
Katie chose to center her courage essay on bullying. Katie's winning essay is now posted on the Sioux County Sheriff's website and Facebook page.
Katie and her parents were honored with a two-hour tour of the sheriff's department. They got to see the intake area used to check in prisoners. She said that was quite interesting. She also got to tour the dispatch area.
She met Sheriff Altena who talked to them for quite a while. She didn't expect the jail to be so big. She expected it to be like on TV, a much older two-story building. But, she said, "It was really nice."
Katie explained, "There were a lot of fun parts" on the tour and also a ride-along opportunity. Pollema took her on the ride-along for about an hour. They checked traffic for speeders and he showed her how the machine that checks their speeds worked. Katie learned that Pollema is there to help people and "he's really nice and easy to talk to.
"I'm just glad they have him in schools so kids realize that these are good people and they're here to help us," Amy explained.
To other kids who have the opportunity to write an essay similar to this in the future, Katie said, "You should do it because you never know if you will win and it was really fun to write." She thought the reward for winning was pretty sweet too and said, "It was fun, it was all really fun."