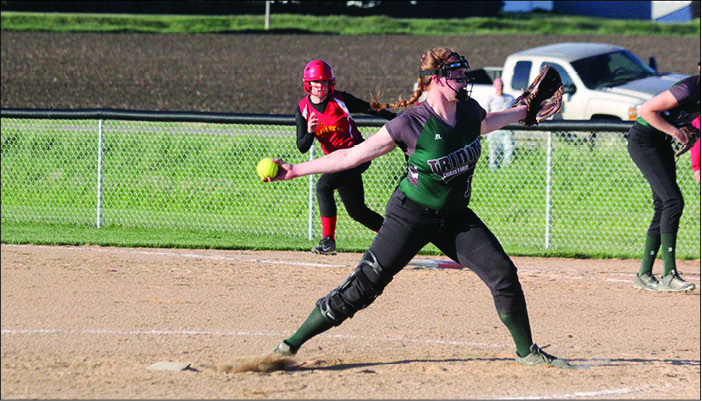 Clay Central-Everly1-0-0-0-0-0-12
Trinity Christian1-1-1-2-5-0-010
HULL-Trinity Christian has been the "home" team on softball fields, but not technically because the Tigers had no diamonds of their own and always had to play on the ball fields of other schools. Trinity Christian now has brand new baseball and softball fields and the Tigers were nearly flawless in their first game, a 10-2 victory over Clay Central-Everly Tuesday, May 30.
Although Clay Central-Everly managed two runs in the game, the Mavericks failed to pick up a single hit against Trinity Christian starter Koralee Heynen. The junior tossed seven no-hit innings, allowing just one walk. The runs Clay Central-Everly scored came as the result of a couple dropped third strikes and the lone walk issued by Heynen, who was otherwise nearly flawless and racked up 19 strikeouts.
"Our pitching was really strong and that really started our game off on a good note. Koralee came back and she's looking really good this year. She was out last year for a while with an injury, but she worked hard over the offseason to get back to full strength and she came out really strong last night and I really think that set the tone of the game for the rest of the team," said Trinity Christian head coach Kassandra Heynen, Koralee's older sister.
Despite the lopsided game, Clay Central-Everly actually held a brief lead after scoring a run in the first inning. But Trinity Christian responded with one run in each of the first three innings. The Tigers tacked on two more runs in the fourth inning and broke the game open with a five-run fifth inning.
"It was really fun to see them score a run in each of the first three innings and then string a bunch together after that. The girls really took off from there," said coach Heynen.
The Tigers' offense was firing on all cylinders, as all but two of the players in the starting lineup had at least one hit. In addition to her stellar pitching performance, Koralee Heynen also led the offense, going 2-for-3 with a double and a walk. Junior Shayna De Roon was clutch, as she was responsible for four RBIs.
Coach Heynen expects the schedule to get more difficult in the weeks ahead, however. "Clay Central-Everly has really been struggling but we know it's going to get more difficult and we're going to play more competitive teams. This game was a really fun way to start the year. It was our first home game at our brand new field so it was really exciting."
Heynen said she thought her players had a bit of the "first-game jitters" but she saw their confidence growing as the game progressed. "We had great at-bats, which I was really thankful to see. They were aggressive with pitches that were in the strike zone and they put the ball in play, and they were disciplined enough that when strikes weren't being thrown they were taking walks. We saw all of that last night."
For the Tigers' coach, being able to watch her sister pitch a no-hitter in the first game of the year at their brand new ball field was perhaps the biggest highlight of the game. "That was really cool. It was really fun to watch."
Trinity falls to Unity 17-7
Nathan Broek | Sports Editor
nbroek@ncppub.com
Trinity Christian2-1-1-2-1-0-07
Unity Christian6-5-3-1-0-2-017
ORANGE CITY-Trinity Christian decided to let some of its secondary pitchers take the circle Thursday, June 1 in a War Eagle Conference softball game with Unity Christian. Unfortunately, that plan back-fired in a 17-7 defeat in six innings, but the Tigers got a better idea of what to work on with their second and third pitchers.
After Trinity Christian scored two runs in the top of the first inning, Unity Christian stormed back for six runs in the bottom half. The Tigers scored one run in the top of the second before the Knights put the game away with five in the bottom of the second and three in the bottom of the third following a single run by Trinity Christian in the top of the third.
The final runs of the game included two runs by the Tigers in the top of the fourth, one run by Unity Christian in the bottom of the fourth, one run by Trinity Christian in the top of the fifth and two runs by the Knights in the bottom of the sixth to force the mercy rule.
Shayna De Roon was in the pitcher's circle to start and threw one inning with three hits, six runs that were all earned, five walks and one strikeout. Ashley Van Egdom threw five and one third innings with four hits, 11 runs of which seven were earned, three walks and four strikeouts.
"We have three pitchers and Koralee (Heynen) pitched really well the first game, and I wanted to try everyone because on some nights we have double-headers and Saturday tournaments when we need someone else to pitch," said Trinity Christian coach Kassandra Heynen. "We started Shayna De Roon in the first inning. It didn't go that well for her. She struggled to throw strikes and they scored six runs off her right off the bat there. That was kind of a rough start for us."
But coach Heynen felt things went a bit better once Van Egdom took the rubber.
"After that (first inning) we tried our other pitcher, Ashley Van Egdom, and that went better. After a little bit of a rough start it was hard to overcome the deficit of runs that we needed to," the coach said.
One positive on the offensive side for the Tigers was the fact that they drew 10 walks. De Roon had two of those free bases and scored one run. Koralee Heynen had one walk that came with the bases loaded. Shania Kooiker had one hit, one run and one RBI. Van Egdom and Caitlyn Van Engen each walked once and scored once. Sydney Brummel had one hit and two RBIs. Jayden Hoksbergen had two walks and scored twice. Alyssa Uittenbogaard scored once.
"They didn't give up and I was happy about that. That was good to see because coming out of the gate we scored two runs in the first, but allowed them to score six. It is still within reach and the girls battled hard," coach Heynen said. "We scored a run here and there. Even when Unity scored five in the next inning, I thought it was real neat that we were able to score runs in every inning."
Moving forward, coach Heynen hopes her other two pitchers can step up and lighten the load on ace Koralee Heynen.
"Overall, we knew it could be difficult but we need our other pitchers to step up. We just can't depend on one pitcher to pitch for us," she said.
Koralee Heynen gets injured in 13-1 defeat
Hartley-Melvin-Sanborn1-0-3-5-0-4-013
Trinity Christian0-0-0-1-0-0-01
HULL-Trinity Christian lost its second game in a row Friday, June 2 in a 13-1 defeat to War Eagle Conference opponent Hartley-Melvin-Sanborn, but adding to that wound was ace pitcher Koralee Heynen coming out of the game with an arm injury that will keep her out for at least three weeks.
"It's something I've been worried about and I hoped she would get us a ways, but Koralee threw her arm out. Her shoulder went out of place in the third inning," said Tigers' coach Kassandra Heynen.
Koralee's final line was throwing two and one-third innings with two hits, four runs of which three were earned, three walks and four strikeouts. Heynen's game-ending throw began with a dropped third strike behind her catcher. A runner from third broke home and beat Heynen to the plate to score a run. Meanwhile, the batter raced to first base and promptly went to second as the action was happening at the plate. Heynen attempted the throw to second base and, in the process, popped her throwing arm out of place.
"So I had to take her out of the game and go to our other pitcher," coach Heynen said.
That pitcher was Ashley Van Egdom. She threw the final two outs of the frame and kept that game at a 1-0 score after the Hawks tallied one run in the top of the first. But Van Egdom ran into some control problems, giving up eight earned runs during the third and fourth stanzas. The Tigers countered with a run in the bottom of the fourth, but Hartley-Melvin-Sanborn scored four more times in the top of the sixth to enforce the mercy rule after a scoreless bottom half by Trinity Christian. Van Egdom's stat line was three and two-thirds innings pitched with six hits, nine runs all earned, seven walks, two strikeouts and one hit batter.
"Ashley went in and finished out the (third) inning good, but the next inning she had four walks and one hit batter. She just struggled right away to find the strike zone, but in the fifth and sixth she did good on her attacking again. That was good, but we're a little bit of a different team when we don't have our ace on the mound," coach Heynen said.
With Koralee Heynen out, that puts more pressure on Van Egdom and Shayna De Roon to pitch effectively and for the Tigers' defense to be able to make plays.
"Ashley and Shayna have both worked hard and we need them to step up right now because Koralee is going to be out for a while. Hopefully she can return," coach Heynen said.
"Defensively, we didn't have a lot of errors but we did throw the ball around a little bit too much," coach Heynen continued. "We just really need to be sharp on defense when our pitchers throw strikes."
Shania Kooiker had the lone hit for the Tigers; both those hits were doubles in three plate appearances. Kooiker also scored the lone run of the game. Caitlyn Van Engen was credited with the RBI.