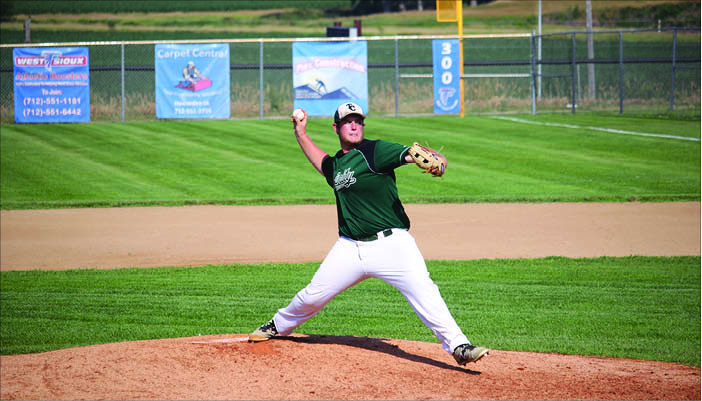 Trinity Christian0-0-0-0-0-2-13
LeMars Gehlen0-0-3-1-3-2-09
HAWARDEN-Trinity Christian knew the task would be a difficult one Tuesday, July 11 against LeMars Gehlen Catholic and the Tigers were defeated 9-3 in Class 1A District 1 tournament play in Hawarden, but Trinity Christian felt it gave all the effort it could give.
The Jays beat the Tigers once during the regular season by a 4-2 score, but the second time around proved to be a different case. After two scoreless innings, LeMars Gehlen got on the board with three runs in the bottom of the third, one run in the bottom of the fourth and three more runs in the bottom of the fifth for a 7-0 lead.
Trinity Christian got its first two runs in the top of the sixth, but the Jays quickly got those runs back in the bottom half for a 9-2 lead. The Tigers scratched across one final run in the top of the seventh, but they saw their season come to an end.
Andrew De Boer was the starting pitcher and threw four and two-thirds innings with seven hits, seven runs of which six were earned, five walks and four strikeouts. Dawson Vis threw an inning and a third in relief with three hits, two runs that were both earned, one walk and one strikeout. Coach Mike De Jager said the Jays simply put good at-bats together and Trinity Christian was simply beat by a better team.
"I was very happy with the way the guys played. I can't fault them for their effort. There was a lack of focus there a few times, just on little, easy things, but I mean, did it hurt us? Not so much. They (LeMars Gehlen Catholic) just came up with some big hits when they had runners on," he said.
The final offensive numbers had Byron Maassen with one hit, one RBI and a stolen base. Logan Cleveringa had one hit and one RBI. Ethan Van Bemmel had one hit, one run and two steals. Dawson Vis had the final hit with Torrey Heynen and Bryce Van Maanen both scoring as courtesy runners.
Despite the low scoring, De Jager felt his team was putting good at-bats and hits together.
"All in all, I thought our guys battled. We put the ball in play, but we just weren't finding the holes like they did. And sometimes you just get beat. But I was happy with the way we battled, especially in the last couple of innings where we came back and scored a few runs of our own," De Jager said.
The Tigers ended the season with a 7-17 record and were 2-9 in the War Eagle Conference. Trinity Christian is expected to return everybody next season as they lose no seniors to graduation.
"They've improved immensely. These guys come to practice every day and they want to get better. There are no seniors on this team. We lost a couple of huge seniors at the end of last year who were responsible for about 60-70 percent of our offense, and we had no idea who was going to step up this year and respond. When you go from having Andrew, who started tonight and who's a junior, and then going to the rest of the pitching staff all being freshmen, it really was a learning year and I challenged them each and every game to just get a little bit better and to learn from our mistakes," De Jager said. "We have to learn and get better. Baseball is such a mental game. If you get down on yourself or put a lot of pressure on yourself, you're not going to perform well. You just have to stay loose and have fun. I always say, 'Play the game of baseball like you're a fourth grader' because everybody loves the game of baseball as a fourth grader and that's the mentality I want to instill here. It's not about winning and losing. Winning is nice of course, but it's about having fun. These guys are high school kids. So it's just about going out there and having fun playing the game that we love to play."