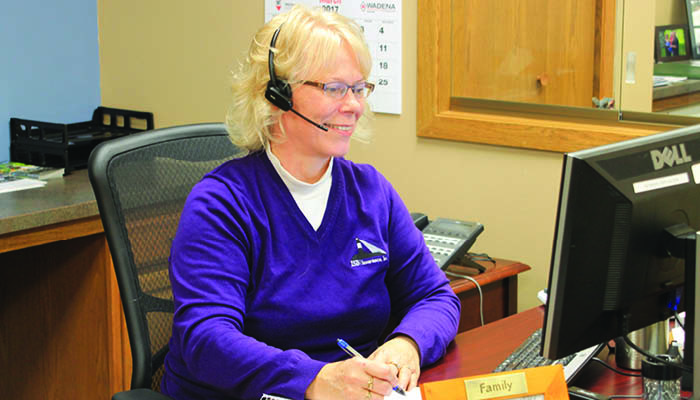 There's a new agent in town! Even though Joyce Sipma has lived in Hull many years, she's worked at an insurance agency in Sioux Center the past 20 years. That ended recently when she joined ISB Insurance in Hull.
When the job opening came up, she decided to check it out. "I kind of liked what they had to say and it was right here in town and I've always wanted to be back in town," she said
"I'm learning a lot because I knew one company inside and out and now I'm learning all different companies — many, many companies," she explained. "Every company has different rules and regulations and I need to learn them all."
Sipma is licensed in all lines, life and health, property and casualty, commercial, crop and hail. She keeps her license up-to-date by taking the required 36 hours of study every three years.
She's enjoying getting to know her new coworkers and customers, which is one of her favorite parts of the job. "This is a whole new customer base for me," she said.
According to Sipma, customer service is very important and it keeps people coming back. "I think it's so important to service them, and do everything you can to keep that customer. It's harder to obtain a customer than it is to keep a customer on your books," she said. That involves doing the service work, whether it's a coverage change or adding a vehicle. Explaining the coverages is also huge. "They need to understand what they bought," she said.
Less commuting means more time for Sipma. She loves being able to run home at noon hour for a little bit, something she'd not been able to do before. "Just being in town has been great! You know, walking across the street to the Pizza Ranch and having lunch with friends, has been fun," she said.