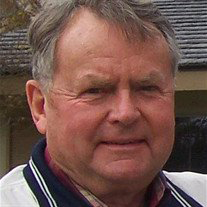 Tenas DeJong
93
Ruthven, Iowa
February 9, 2019
Tenas DeJong, 93, of Ruthven, Iowa, formerly of Boyden, Iowa, passed away Saturday, Feb. 9, 2019, at Ruthven Community Care Center in Ruthven.
Funeral services were Saturday, Feb. 16, at Andringa Funeral Home Sheldon Funeral Service, Sheldon, with interment in Sheridan Township Cemetery, Boyden.
Tenas was born in Doon, Iowa, to Trintje and Sam Veninga. After his mother's death at childbirth, he was raised and later adopted by Jennie and Fred De Jong. He spent his youth on the family farm in Carnes, Iowa, and his teenage years in Orange City, Iowa, where he attended Orange City Christian School. He served in the Army Air Corps and Air Force Reserves from December 1943-1952.
On July 5, 1947, he married Joanne. He graduated from Iowa State College in Ames, Iowa, with a bachelor of science degree in forestry in 1952. He worked in the lumber business over 35 years, his career spanning from lumber salesman in the midwest to plant manager for cabinet manufacturing in La Mirada, California, and Youngstown, Ohio.
Survivors include his children, David and Paul De Jong of Dickens, Iowa, Karen (Frank) Allen of Mission Viejo, California, and Linda Ciccone of Noblesville, Indianna; five grandchildren; 11 great-grandchildren, nieces and nephews.
He was preceded in death by his wife of 58 years; parents; siblings, John, Rich, Bill, Louie and Martha; adoptive parents and siblings, Jake, Geert, Pete and Sue.