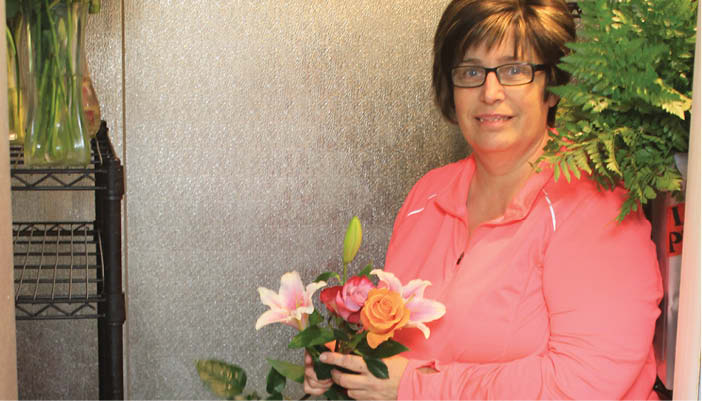 Julie Mesman at Personal Touch Designs has been gearing up for Valentine's Day. She has received quite a few floral orders already and looks forward to filling even more as the time comes closer.
Not only does the fresh flower smell at Personal Touch Designs get you in the mood for Valentine's Day, but seeing the display case full of roses and other beautiful flowers is a sure sign of the special day.
The flowers were ordered at least a month in advance. "It's a guessing game," she explained, to figure out how many flowers and what kinds to order. She compares previous years' sales and factors in what day of the week the holiday falls on. "If it's a weekend, a lot of times people go out to eat instead of (getting) flowers," she explained, so there are variables to evaluate.
To make things even more challenging, the cost of roses usually doubles at Valentine's Day over the cost at any other time of the year. However, she doesn't push her cost up for customers. "There's no way I'd sell roses if I did," she explained.
The shop is located in Mesman's basement, and a lot of preparation goes into getting ready for lots and lots of Valentine's Day flowers. Before they arrive, flower buckets need to be bleached and scrubbed clean, a process that keeps the flowers healthy once they arrive. After their arrival, the flowers have to be cut and dipped in a solution and then put in the right flower food.
Although it's time-consuming, to Mesman it's all good because she enjoys what she does, even when it gets busier like it does around Valentine's Day. She often calls on a little extra help from her sister, Kim Clark. Clark helps her get things set up, unpacks freight and helps display it too. Mesman's husband, Mike, is also a huge help. He often moves the freight downstairs to be processed.
One thing Mesman tries to do is to be sure her arrangements are unique, which can be a challenge. "We try to do something different for everyone." She's committed to making sure no one gets something with that "cookie-cutter" design where one arrangement looks like all the rest.
With orders still rolling in, Mesman expects to start on Monday putting arrangements together to get them ready for the big day. She did not expect that so many guys would have thought so far in advance, and said, "I'm impressed."
In the future, Mesman plans to feature a website for Personal Touch Designs and will be carrying more gift-type items because Lewis Pharmacy is cutting its entire line. And people still need a place in town to get gifts.