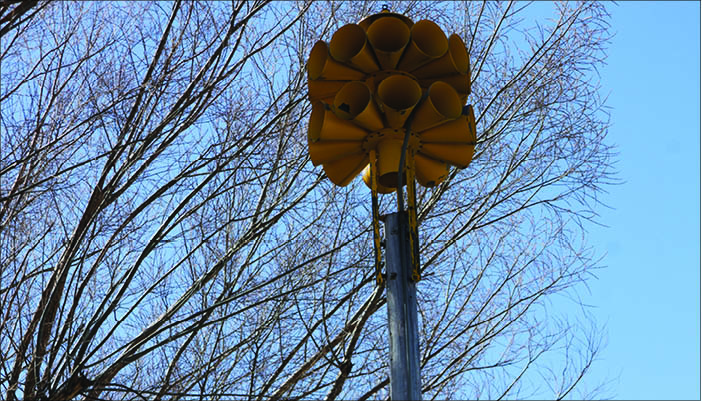 Hearing the sirens in Hull Wednesday a couple times between 10 and 11 a.m. may have made you wonder what was happening. The sirens were being tested for use during storm season. March 27-31 was Severe Weather Awareness Week, so typically this is when sirens are checked.
The Boyden and Hull communities have sirens with remote capability, which are activated from the communications center at the Sioux County Sheriff`s Office. Sioux County mandates testing these sirens, which assures everything is working correctly. Nate Huizinga, emergency management director for Sioux County, said, "Sirens are tested so we know the radio frequency we use to set off the sirens is still working, and also that the towns know their sirens work during severe weather season."
Communities without remote capability must test their own sirens. A specific day and time is usually set for testing. In Sioux County the tests are normally run on the first Friday of the months of April though September around 10 a.m. — unless there are storms in the area.
When severe weather approaches, area storm spotters and law enforcement officers make the decision to sound the sirens in the affected areas if they feel it is warranted. "We also sound the sirens for any tornado warning in that particular town," Huizenga explained.
Hull city administrator, Aaron Kooiker, explained that remote activation wasn't always an option. About four years ago, the sirens were set off manually after communities received a call from the sheriff's office, telling them to sound them. Each town can still activate most sirens on their own.
Hull's tornado sirens are located at Eastside Park, Westside Park and near the water tower by the highway. Different sirens in town are set off at intervals throughout the day — at noon, 6 p.m. and 9 p.m. Boyden's only tornado siren is located behind Citizens State Bank near the fire station. Boyden also blows a siren at noon each day.
Most midwestern communities use a common "alert" tone to warn of tornadoes or severe weather. The alert sound is a steady continuous note, but may sound like it rises and falls as the siren rotates and the direction of the horn changes.
The National Oceanic and Atmospheric Administration (NOAA) is a nationwide network of radio stations that broadcasts continuous weather information directly from the nearest National Weather Service office. The broadcasts include official Weather Service warnings, watches, forecasts and other hazard information 24 hours a day. Sirens are often linked to NOAA weather radio alerts, so its warning comes simultaneously with sirens sounding. "NOAA radios have the ability to set up a tone or alarm if your area has weather watches and warnings," Huizenga explained. They can be programmed to a specific area and will alarm when necessary.
Most emergency management officials agree that sirens are an important part of the severe weather warning system, but not all people may hear them. There are other ways to be made aware of impending weather conditions. TV, radio, smart device, email, portable weather radios and many other ways are available to receive weather notifications and to be kept up-to-date. With the severe weather season just around the corner, it is important to choose the one that works for you.
"The best way is to subscribe to our Nixle notification system," explained Huizenga. The Nixle system offers notification services for local police departments, county emergency management offices, etc. "We automatically put out watches and warnings for weather directly to email and text messages for subscribers," he said. Sign up for Nixle at www.siouxcountysheriff.com.
In order to stay safe during a tornado, Huizenga says, "If you are in a residence or building, going to the lowest level you can and finding an interior room is best. If you are outside, get to the nearest shelter you can. It is not recommended to try to outrun a tornado in your vehicle. The best option, if caught out on the road, is to find a low spot or ditch and lay down and cover your head."