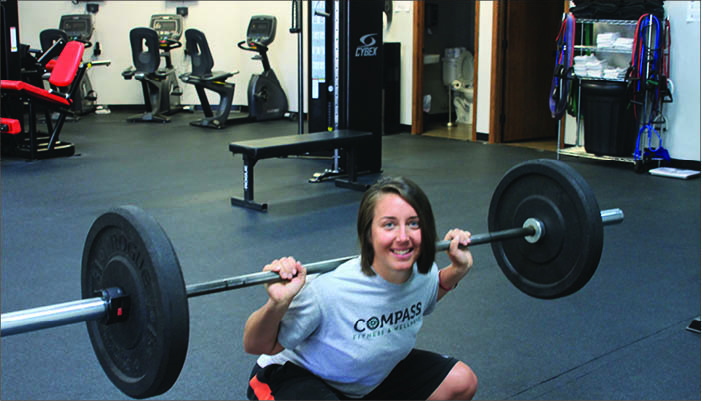 That's right, she's back! Kassidy Van Voorst is excited to be back and working full-time. She spent the last eight months working as an intern strength conditioning coach at D 1 Sports Training in Sioux Falls. During that time she still had a few clients at Compass Fitness.
"I worked with a lot of younger kids," she said. She started working as an intern four hours a day. It became more full-time and eventually she was working 65 hours a week. Driving home where she lives with her parents, Marlin and Paula Van Voorst, became tiresome. Van Voorst decided something needed to change.
She told Lorilyn Van Dyke and Renae Calkhoven, her bosses at Compass Fitness, that she was done working at D1 as of April 6. Van Dyke thought it was awesome because she knew several clients who desired a personal trainer. Van Voorst has set up consultations with some of them and will be working with them soon.
She feels that knowing a lot of people around the Hull area will help build her new clientele. "I'm very excited. I feel like working in Sioux Falls kind of got me prepared for where I'm at in my career now. I've learned so much there," she explained. She plans to use that knowledge with her new clients.
The same week she picked up the new clients with Compass, the Sioux Center softball coach contacted Van Voorst and now she'll be head softball coach for the Sioux Center team and also working at Compass full-time.
"Most of my clients are in the morning and softball is in the afternoon, so it all kind of worked out," she explained.
Plans are already set in motion for some of the programs Van Voorst will do this summer at Compass. She's leading an athletic speed camp and BLAST in the Park. The athletic speed camp will be June 19-22 and 26-29 in two separate sessions for grades 3-5 and grades 6-9. Focus will be on agility, change of direction, plyometrics (jumping and rapid movements), speed and agility, and strength training. Anyone who wants to improve these skills can attend. Playing sports is not a requirement. According to Van Voorst, it teaches kids how to move and run mechanics, etc. properly while keeping active and moving.
BLAST in the Park is a new program. Sessions for grades 4-6 will be at Kids Kingdom in Westside Park on Tuesdays and Thursdays in June and July. BLAST focuses on Balance, Learning, Active Speed Training. Kids will learn to use their bodyweight without any extra equipment and she'll show them the proper ways to do it. They'll also play a lot of games to keep it fun. "It can be for anybody if they want to learn and have fun," she explained. "I just think it's good for kids to get out and stay active throughout the day."
Parents can register their kids at compassgym.com for most programs.
Van Voorst's goal is promoting an active lifestyle for lifelong exercise habits through both programs. She makes exercise fun while teaching the health benefits of it and of being more active. Van Voorst's future goal is to continue building up her clientele. "I've already gotten four or five new clients. I want to try and improve that," she said. She also wants to entice more people to come to Compass Fitness through programs like these. At Compass Fitness, Van Voorst and other staff are currently working on new fall programs. They're trying to incorporate more family-oriented programs. 
Van Voorst is looking forward to her summer, working at Compass Fitness and coaching softball. "To be a softball coach, and to be a personal trainer, that's my dream job! So I'm kind of doing what I always wanted to do," she said with a big smile on her face.