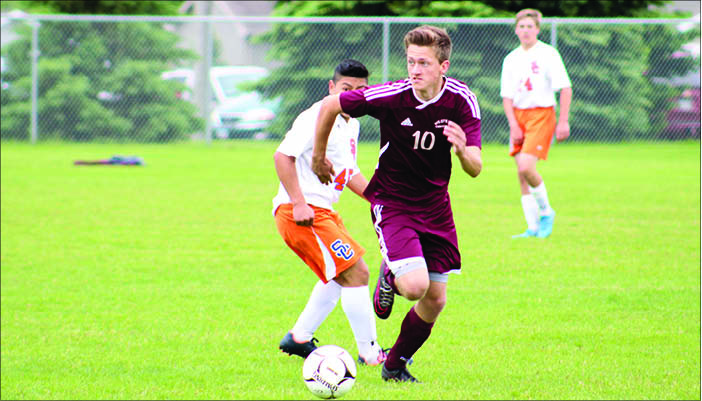 ORANGE CITY-Sioux Center played a near-flawless game against Western Christian. The Wolfpack simply had no answer to stop it and their season came to an end in a 10-5 Class 1A sub-state soccer playoff game Saturday, May 27.
Sioux Center scored in the 10th minute, the 34th minute and the 38th minute. Western Christian then caught a bad break as the ball glanced off one of their players and into the back of their net, crediting the Warriors with a 4-0 lead at halftime.
The Warriors continued to stay on the attack in the second half with goals in the 50th minute and 58th minute for a 6-0 lead. The Wolfpack then got on the board as Chris Baccam got an unassisted goal from 10 yards out and another goal at the 67-minute mark off a pass from the corner by Brenden Timmerman. But Sioux Center quickly countered with three goals in the 71st minute, the 72nd minute and the 77th minute for a 10-2 lead and the game in hand. The final goal for Western Christian came off a penalty kick by Brenden Timmerman.
"I felt like we came out flat and their (Sioux Center's) first goal took the wind out of us," said Wolfpack coach Sou Baccam. "Sioux Center played a great game, didn't make a lot of mistakes and they capitalized on ours. They did a good job exposing us offensively and defensively."
Jeff De Kam was keeper for the Wolfpack and he had four saves in 14 tries. As a team, Western Christian had nine shots on goal in this game. The Wolfpack ended the 2017 season with an 8-10 overall record and a 1-5 mark in the Lakes Conference.
"It's disappointing to see our season come to an end like this, but I feel like we've come a long way since the beginning of the season," coach Baccam said. "We improved in so many areas of our game."
Coach Baccam hopes his players can take some lessons learned in this game and apply them next season.
"During the game we couldn't link our passes and got frustrated. Hopefully the guys will remember this, work hard in the offseason and come back hungry next year," he said. "We had a young team this year and I'm proud of the progress they had as a team."