Ruth Horstman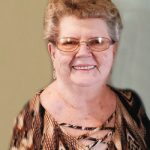 89
Sioux Center, Iowa
July 3, 2018
Ruth Horstman, 89, of Sioux Center, Iowa, passed away Tuesday, July 3, 2018, at Royale Meadows Care Center, Sioux Center.
Funeral services were Friday, July 6, at New Life Reformed Church, Sioux Center, with interment in Memory Gardens Cemetery, Sioux Center.
Ruth Westra was born May 13, 1929, in Hull, Iowa, the daughter of Peter and Della (Post) Westra.  Ruth grew up at Hull where she attended grade schools in Hull and Sheldon.
On May 28, 1948, she married Gerrit Horstman. They made their home on a farm north of Sioux Center.  They moved to Sioux Center in November 1992.
Survivors include her husband; their children, Pete (Caron) Horstman of Doon, Russ Horstman of Tea, South Dakota, Jolene (Ken) Vander Ziel of Rock Valley, Iowa, Linda (Dave) Van Eck of Lincoln, Nebraska, and Lorna (Bruce) Midthun of Sioux Center; 18 grandchildren; 48 great-grandchildren; one brother, Gerald Westra of Homestead, Florida, and one sister, Pearl Clark of Bakersfield, California.
She was preceded in death by her parents; son, Calvin Horstman; two grandsons, three brothers-in-law and two sisters-in-law.