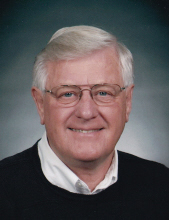 Roger Jordan
81
Orange City, Iowa
February 8, 2019
Roger Jordan, 81, of Orange City, Iowa, passed away Friday, Feb. 8, 2019, at Orange City Area Health System.
Memorial service was Tuesday, Feb. 12, at First Reformed Church, Orange City, with interment in West Lawn Cemetery, Orange City.
Roger William Jordan was born April 24, 1937, near Rock Rapids, Iowa, to Jacob and Hilda (Meinerts) Jordan. He grew up in George, Iowa. After graduating from high school, he served in the U.S. Army and National Guard from 1956-1961. Upon his return, he worked for Armour & Co. and then in the offices at Land O' Lakes, both in Sheldon. He later became an owner/partner of AutoDine restaurant in Sioux Center, Iowa. He also was engaged in farming. Later he worked at Demco Printing in Boyden 20 years, retiring in 2007.
In July 1993, he married Marilyn (Te Grotenhuis) Cooper. They made their home in Boyden before moving to Orange City in 2001.
Survivors include his wife; blended family of four children, Mari Ann (Terry) Cook of New York, Mark Jordan of Chicago, Illinois, Debra Broek of Orange City and Kevin (Dawn) Cooper of Orange City; eight grandchildren; two sisters, Elaine Nagel and Miriam Ruth Jordan; a sister-in-law, Peg Jordan; a brother-in-law, Norman (Rose) Te Grotenhuis, and other family and friends.
He was preceded in death by his parents; brother, Nathan Jordan; a sister, Eunice Becker, and two brothers-in-law, Larry Nagel and Bob Barrows.