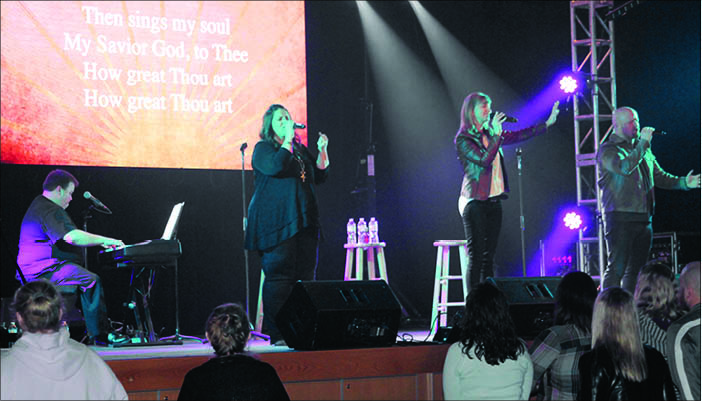 The 'Blessed and Unbreakable Tour' gave its final performance in Hull on Saturday evening. The tour includes the 'Ducky Dynasty star,' Missy Robertson and The Christian Contemporary singers, Selah. The Western Christian High School Event center was alive with activity as fans from Hull and surrounding communities joined together to see Selah and Missy Robertson in a joint performance.
Selah opened the evening with several musical numbers. Selah is known for changing up traditional hymns into a more contemporary style and the group did not disappoint. Fans enjoyed listening to and watching the talented piano player,Allan Hall, or the strong and awesome voice of Amy Perry, along with the jokester, Todd Smith, lead singer. Selah closed out the evening with "How Great Thou Art" and the audience singing a capella.
Missy Robertson and her 13-year-old daughter, Mia, also spoke. Missy is the wife of Jase Robertson and the family is featured on the series TV show, "Duck Dynasty." Jase and Missy's daughter, Mia, was born with a cleft lip and cleft palate.
"Duck Dynasty's" last episode was filmed about 10-12 days ago. Missy said it was a bittersweet ending but "we are ready to see the next chapter that God has in store for our lives." Right now they don't know what that is; it's a little scary, but it's also exciting. "So when you saw there was a Christian family trying to live right and trying to stay committed, forgiving and praying at the end of every episode, it's because of that we were able to stay on the air, so thank you!" She said.
Missy also created a jewelry line inspired by southern feminity and a love for the outdoors with items made from leather and wood. The line's mission is not just to make jewelry. It helps women who have been rescued from sex trafficking, jail, prison, homelessnes, and addiction and gives them a hand up.
Missy feels the project is going well because God took charge of it and is working through it to show women to be themselves, find common ground in how they were raised, and how they feel about their self-worth.
Missy took a risk stepping out to do the jewelry line, but feels God is blessing it. Not every woman is a success story, but for those who are, it's worth it. Missy also left everyone with a challenge, "Don't view God as a means of bettering your own story. Leave yourself as valuable enough to better His story."
In spite of overcoming many challenges, Mia is an extraordinary girl who isn't afraid to be different. She knows God is with her in everything she does. Mia spoke a bit about conquering her own giants and the strength she gets from God.