Rita Kroese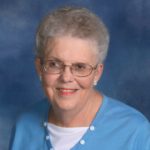 84
Sheldon, Iowa
August 1, 2018
Rita M. Kroese, 84, of Sheldon, Iowa, passed away Wednesday, Aug. 1, 2018, at Sibley Specialty Care.
Funeral service was Saturday, Aug. 4, at St. Paul Lutheran Church, Sheldon, with interment in East Lawn Cemetery, Sheldon.
Rita Mae Bleasdell was born Feb. 11, 1934, in LeMars, Iowa, the daughter of Eldon and Myrtle (Juhl) Bleasdell. The family moved to Boyden, Iowa, where she attended school and graduated from the Boyden High School in 1952.
On June 1, 1952, she married Arnold John Kroese. The couple made their home in Sheldon where she worked for Dr. Ron Zoutendam nearly 40 years, retiring in 1995. After retiring, she worked at Children's World five years.
Survivors include her husband; her son, Ronald (Tracie) of Omaha, Nebraska; a daughter-in-law, Martha Kroese of Cedar Falls, and other relatives and friends.
She was proceeded in death by her parents and a son, Terry Kroese.