Nathan Broek | Sports Editor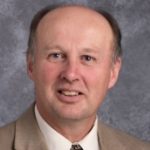 Building an athletic program from the ground up is never an easy task, but former Trinity Christian High School athletic director, Kevin Van Engen, did his part and on Wednesday, Aug. 1, felt it was time to step down from his role.
"I have enjoyed the contacts that I have shared with many of you and appreciate having the opportunity to work with many of you," Van Engen said in an email to the media July 30.
Taking over as the interim athletic director is current principal at Trinity Christian High School, Jim Regnerus.
"I enjoy athletics, so I'm not regretting taking this job. However, I guess I look forward to continuing what Mr. Van Engen has done for Trinity athletics from infancy stages to a successful program," Regnerus said. "So because of his work we have a pretty decent (athletic) program in place. So that's what I'm really looking forward to. Just keeping that success going."
Regnerus has been a part of Trinity Christian High School since the doors opened in 2008. During those first couple years, Regnerus held the title of athletic director.
"When Trinity started, I was the first athletic director for a few years. But by the time we joined the War Eagle Conference, Mr. Van Engen joined our staff and he took over from there," Regnerus said.
Since the Trinity Christian Tigers have been a part of the War Eagle Conference Regnerus said there is more to do in the athletic director role now than when he first had the job.
"I have done it a few years, but it was on a much smaller scale compared to what we do now," he said.
However, Regnerus said he does not expect too many changes to happen in the athletic department.
"I don't plan to take the program into a new direction or anything like that. I am interim director. My goal is simply to continue to do what Mr. Van Engen has been doing. He did a good job and he is very organized, so most of the work is already in place as far as scheduling. The challenge will be getting schedules ready for 2019 and 2020," Regnerus said.
While also principal at Trinity Christian, Regnerus noted he will be plenty busy in the upcoming weeks, but felt he's ready to take on the task.
"I think we have a good program in place and we thank Mr. Van Engen for the work he did to develop the program. So I'm not too scared going into it, other than the time commitment," Regnerus said. "But, again, we've got a good program, so I'm just going to drive it for a little while until we find a new driver."
Meanwhile, the search for a full-time replacement athletic director is still on.
"We are still looking for a replacement. We recognize that it might take us awhile to find somebody, but we are still looking for someone to take over on a more full-time basis," Regnerus noted.