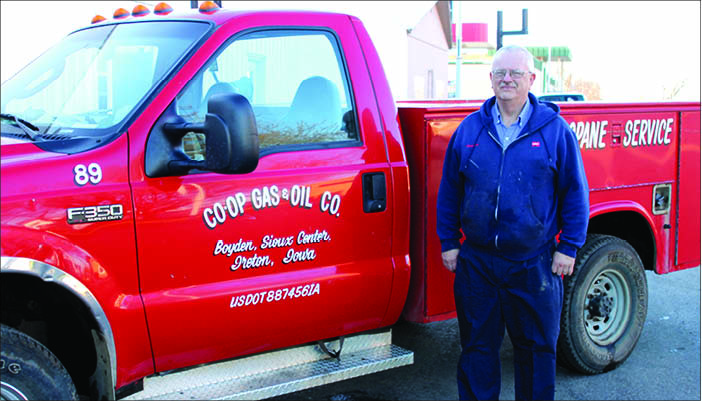 Things have changed a lot over the last 45 years in the Boyden Co-op propane department. Dwayne Van Meeteren knows all about that since it's been his area of expertise for many years. However, the Co-op will soon be missing that expertise when he retires June 1.
The first manager he worked under was Walter "Ole" Diekevers who was then turning the management over to Pete Sietstra."I was the first one Pete ever hired and he often comments about that," Van Meeteren said.
Van Meeteren was hired in 1973 when he was about 21 years old and the Boyden Co-op was his first steady job. He serviced cars and performed front-end alignments for a couple years. Then he drove propane truck a number of years and eventually went into the service side of propane.
Throughout the Co-op, Van Meeteren has seen several changes. In the shop, that includes cars needing less-frequent oil changes and tubeless tires that last longer.
Communication has changed too. Staff used to use two-way radios. Cell phones have replaced them which allowed customers direct access to staff.
Propane use has increased a lot since Van Meeteren started. He heard stories of propane that used to come in on railcar. Propane use has expanded because it's cheaper than gas. In addition to heating, conversion kits are available for buses, vehicles, lawn mowers, gas trimmers, etc.
When Van Meeteren first started driving the propane truck, he needed a commercial driver's license (CDL). Now, the CDL includes hazardous materials testing. Regulations became stricter after 9/11 and fingerprinting, a physical and health card are now required. "You could do a lot of damage if you wanted to with a 3,000-gallon bomb behind you," he explained, referring to the propane truck's tank.
As more hog buildings were being built, the work increased and the service territory grew. "We go all the way from Interstate 90 to Spencer, out to South Dakota and down as far as Le Mars," he said. He spends a lot of time fixing hog house heaters.
Long 10-hour days, six days a week are normal for Dwayne. "I've worked all Saturdays or part Saturday's for 40 some years," he said. Hauling propane involved beingcalled outall hours of the night and day on holidays and weekends, and giving up a lot of family time. In about 1993, employees worked almost around the clock because of all the corn dryers running. "There were days that I would put in at least 20-hour days," Van Meeteren said. It was hard to keep up.
During another 1990s winter, a below-zero cold spell lasted three weeks and Van Meeteren remembered having two trucks at that time. When one broke down he jumped in the other one and kept going while the station guys fixed it. "That was definitely some trying times," he said. "I couldn't do it anymore."
Van Meeteren is looking forward to starting retirement. He and wife, Laura, plan to spend the summer doing some traveling and camping. Watching the grandkids will be a treat now that they won't have to work. But, he laughed, "I don't know if my wife will put up with me." So, he may look for a part-time job in the future. "If I want to sleep in til eight, I can. That I'm looking forward to!" he finished with a big smile.