Pete Valentine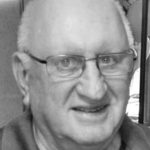 81
Sioux Falls/Harrisburg, SD
March 23, 2019
Pete Valentine, 81 passed peacefully into Jesus' loving arms on 3-23-19 due to  complications from Parkinson's Disease. 
Pete was born in Orange City, Iowa on 7-23-37 to Albert and Rose (Vos) Valentine.  He grew up in the Hull, Iowa area and attended Hull High School where he was quite the athlete.  He then attended Northwestern College and WestMar College.  Pete married his High School sweetheart Harriett Miersma on December 29, 1959.  Pete and Harriett moved from Hull to the Sioux Falls/Harrisburg area in December of 1969 where they raised their children.  Pete worked for the natural gas company in Sioux Falls for close to 40 years.  Pete was an active member of First Reformed Church of Hull, Iowa, upon moving, he then became an active member of Community Reformed Church in Sioux Falls.  He served on various church committees and was an elder for many years.  He was also an active member in the community as part of the Kiwanis Club, Junior Achievement, Prison Ministries, Coached "Y" Basketball, was a member of the Jaycee's as well as volunteering at both Sanford and Avera McKennan Hospitals.
Pete is survived by his wife Harriett; their children, Valorie (Bob) Hoffmann of Ham Lake, Minnesota and Verle (Carrie) Valentine of Sioux Falls.  Five Grandchildren – Ben (Andrea) Hoffmann, Brandon (Amy) Hoffmann, Callie Hoffmann, Marshall Hoffmann and Lexi Valentine.  One Great Grandson – Elijah Hoffmann and a Great Grand Daughter due in April.  Host International Grandchildren – Leon Tian and Maria Jancovicova.  Special "family" – Shelly Smith, Sheila Fossell, and Mike Smith.
Celebration of life service were held 10:00 am Thursday, March 28, 2019 at Community Reformed Church, 6800 E. 41st Street, Sioux Falls, SD.  
In lieu of flowers, memorials may be directed to Sanford Health Foundation, Love Lexi Fund, or charity of choice. www.heritagesfsd.com