Pauline Van Der Zwaag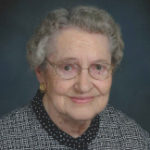 100
Orange City, Iowa
May 23, 2019
Pauline Van Der Zwaag, 100, of Orange City, Iowa, passed away Thursday, May 23, 2019, at  Pleasant Acres Care Center, Hull, Iowa.
Funeral service was Tuesday, May 28, at Free Grace Reformed Church, Middleburg, Iowa, with interment in Capel Township Cemetery, Middleburg. 
Pauline Arta Mouw was born Jan. 29, 1919, at Boyden, Iowa, the daughter of John and Dora (Van Meeteren) Mouw. She was raised at Boyden.
On March 27, 1941, she married Jurry Van Der Zwaag. They farmed at Boyden until 1976 when they moved into Middleburg. Her husband passed away March 30, 1993. She later moved into Orange City. On Nov. 2, 2016, she became a resident of Pleasant Acres.
Survivors include her daughter, Darlene (George) Beach of Stewartville, Minnesota; her son, Ben (Grace) Van Der Zwaag of Boyden; nine grandchildren and 34 great-grandchildren.
In addition to her husband, she was preceded in death by three brothers and a sister, Morris Mouw, Jeanette Doppenberg, Donald Mouw and Wallace Mouw.