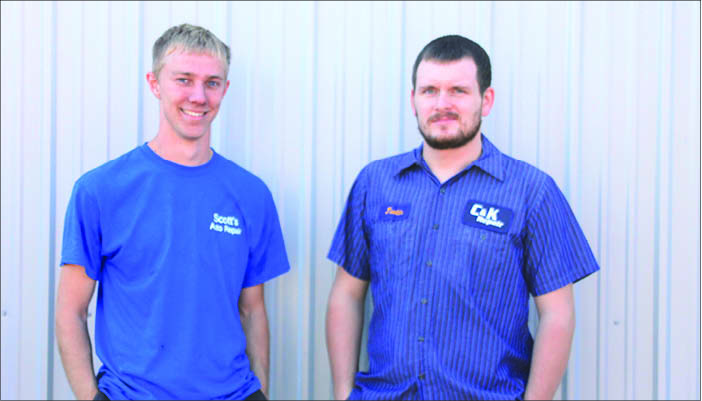 New signs replaced old ones on the former C&K Repair business in Hull last weekend. The business has been renamed Scott's Auto Repair. Owner Scott Hansmann said, "I want customers to know that it's a completely new business and not to expect what it used to be."
The name change became official Aug. 31. When Hansmann bought the business, he kept the name the same for a while so people wouldn't get confused. "Now that I'm a lot more established, I feel a lot more comfortable changing the name," he said. He's excited about the change because having a business named after himself has been his dream.
Hansmann started working at C&K Repair in 2014 as a technician. He purchased the business from Chris Van Meeteren in October 2016. He'd always wanted to find a small repair shop he could eventually buy out. "I just got lucky finding one right here in town," he said.
One employee, Justin Mulder, has remained through the buyout. As the senior tech, he's a definite asset to the business. "Between the two of us we work pretty well," Hansmann said. The business keeps growing so he's anticipating hiring a third person in 2018.
Scott's Auto Repair will continue handling the same services. "Anything automotive repair you can think of," Hansmann explained. "Brakes, tires, oil changes, engine rebuild, transmission replacements and suspension replacement; anything that is there to be fixed or repaired." He offers 24-hour towing service and will make service calls, light-duty repairs or fix a flat tire.
Hansmann anticipates major changes on the horizon, including transforming the unused front showroom area into a customer entrance. "That way they're not always coming in the shop. It will be cleaner and a little bit more welcoming," he said. He hopes to have the changes completed by December, then anticipates hosting an open house for the public.
The oil punch card from C&K Repair carries over to Scott's Auto Repair and as of Sept. 1, a new Loyalty Program begins.
Hansmann is working hard to become better by promising prompter scheduling, better billing and better pricing than in the past nine months. He wants to try to become more available and get repairs done in a timely manner.
The classic car service work will continue along with servicing newer models. Hansmann said, "I enjoy getting the old vehicles in; they're fun to work on." Although both kinds are completely different, the newer, more complicated vehicles are all electrical and can be diagnosed by scanners and computers. The older vehicles don't have those diagnostic tools so are equally challenging.
Hansmann has enjoyed meeting new customers along with C&K's regular customer base. "I like doing my best to keep them happy so they keep coming back," he said.