Muriel Oostra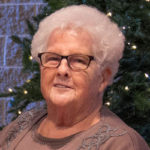 76
Hull, Iowa
January 6, 2019
Muriel Oostra, 76, of Hull, Iowa, died Sunday, Jan. 6, 2018, at her home.
Funeral service was Thursday, Jan. 10, at Carmel Reformed Church, Carmel, Iowa, with interment in Carmel Cemetery.
Muriel Joan Sandbulte was born Jan. 21, 1942, on a farm near Carmel  to Henry and Minerva (Wesselink) Sandbulte. She received her education at Carmel Country School and Sioux Center High School.
On Sept. 22, 1961, she married Robert Oostra. The couple resided in Hull.
Survivors include her husband; five children, Nelson (Wanda) Oostra of Hull, Orlin (Kristi) Oostra of Hull, LaBeth (Mark) Hoekstra of Hull, Ryan Oostra of Boyden, Iowa, and John (Shantel) Oostra of Sheldon, Iowa; 18 grandchildren; 11 great-grandchildren; sisters, Johanna (the Rev. Arnold) Punt of Sioux Center, Iowa, Lois Van Maanen of Rock Valley, Iowa, Norma (John) Boogard of Hull, Retta Van Kley of Rock Valley and Carol (Clarence) Van Voorst of Hull; sisters-in-law, Leona Sandbulte of Luverne, Minnesota, Janice Sandbulte of Luverne, Florence Sandbulte of Rock Valley and Betty Sandbulte of Sioux Center; in-laws, Bill (Lois) Oostra of Winneconne, Wisconsin, Andrew (Wilhelmina "Tootie") Oostra of Rock Valley and Teresa Oostra of Rock Valley  as well as many other extended family members.
She was preceded in death by her parents, two grandsons and brothers, John, Bernard, Jim, Delmar, Kenny, Milton, Delmar, Norman and Harvard.