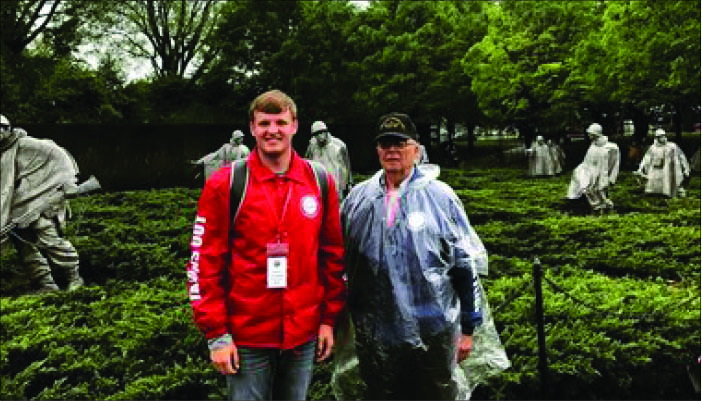 Midwest Honor Flight, a national hub through the Honor Flight Network, is accepting applications for veterans from northwest Iowa and southeast South Dakota. Veterans are invited to apply for an opportunity to take an all-expense-paid trip to Washington, D.C., to see the memorials dedicated to honor their service and sacrifice.
The Honor Flight Network began in Ohio in 2006 and encompasses 48 states. There was an Honor Flight program in South Dakota but in 2012, they stopped taking applications. Midwest Honor Flight started in March 2017. Midwest Honor Flight will be taking its first flight, known as Mission 1, tentatively scheduled for Aug. 22-23. World War II, Korean War and Vietnam War veterans are invited to apply for the tour.
A banquet hosted the evening before departure allows veterans and guardians to meet each other. "The veterans do not pay for the banquet meal or anything (other than souvenirs) on the flight — flight, meals, transportation, park police escort — is all included," said Aaron Van Beek, director of Midwest Honor Flight.
Van Beek heard about Honor Flight when the Sioux Center Scouts supported a local veteran last year. Van Beek realized that Fort Dodge was the closest Honor Flight program local veterans could join since the South Dakota Honor Flight was no longer in service.
"I decided to take it upon myself to start up Midwest Honor Flight," Van Beek explained. He began looking into Honor Flight in January and by March was approved to start accepting donations and applications from veterans. "We are excited for this opportunity and hope that it catches on quickly as well as veterans take advantage of this small token of our appreciation for their service and sacrifice," Van Beek said.
Van Beek trained on a previous Honor Flight with a mentor and had the opportunity to talk with the veteran he was assigned to accompany. "He loved everything about the trip, every little detail," Van Beek said. He also enjoyed the Welcome Home celebration. He told Van Beek, "I'm grateful for the opportunity and will cherish this day for the rest of my life."
"We hope to take at least 65 veterans on this first flight, depending on funding, of course," Van Beek said. 
"Next year, we hope to take two flights annually — one spring, one fall," Van Beek explained. Van Beek will accompany each flight the organization takes. "It is my responsibility to oversee our other committees (medical, bus, guides, guardians) as well as ensure that we have an on-time departure for the flights and memorials," he explained. 
The Honor Flight team is also always looking for new members, guides, guardians, medical assistants and ambassadors. Community support is needed to make the trips possible and donations from organizations and businesses are vital.
Van Beek feels this is an important mission because it honors the veterans and provides closure. "These brave men and women answered the call to serve and were willing to pay the ultimate price for our freedoms without expecting anything back in return. This is just a small token from the American people to show just how grateful we are," he said.
To donate or learn more about the organization, visit www.midwesthonorflight.org. Donations can also be mailed to: Midwest Honor Flight, PO Box 22, Sioux Center, IA 51250. Midwest Honor Flight is also on Facebook.If you have any further questions, contact Van Beek at 712-463-2020 or midwesthonorflight@gmail.com. InHull, you can also contact Jim Koele, 712-330-7996, for an application.