Melvin Van Otterloo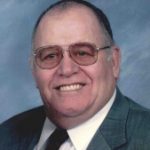 86
Hull, Iowa
July 19, 2018
Melvin Van Otterloo, 86, of Hull, Iowa, passed away Thursday, July 19, 2018, at Sioux Center Health.
Funeral service was Tuesday, July 24, at First Christian Reformed Church, Hull, with interment in Hope Cemetery, Hull.
Melvin John was born May 12, 1932, in rural Rock Valley, Iowa, the son of Herman and Delia (Nobel) Van Otterloo. In 1941, the family moved to a farm south of Hull. After graduating from a country school, he worked for area farmers.
On Jan. 25, 1952, he married Lucille Warntjes. The couple lived in the Ireton, Iowa, area before moving to a farm southeast of Hull, where they made their home until 1969 when they moved into Hull. There he was employed at Zevenbergen Plumbing, Cooperative Gas and Oil, and American Milk Producers Inc. He and his wife also operated Car Care, which became L and M Car Wash, 12 years. After his wife passed away Dec. 9, 2008, he became a resident of Pleasant Acres Care Center in Hull.
Survivors include his four children, Marlen (Jeanne) Van Otterloo of Ward, South Dakota, Janice Van Otterloo of Raymore, Missouri, Phylliss (Jim) Van Tilburg of Hull and Larry (Cindy) Van Otterloo,of Prinsburg, Minnesota; nine grandchildren; 14 great-grandchildren; a sister, Harriet (Corwin) Dolieslager of Sioux Center, Iowa, and two brothers, Jim (Thelma) Van Otterloo of Idaho, and Harlan (Connie) Van Otterloo of Hospers, Iowa.
He was preceded in death by his wife; parents; a daughter-in-law, Lorna Van Otterloo; a son-in-law, Ray Humphreys, two great-granddaughters and a brother, Burdette Van Otterloo.