Melvin Schuiteman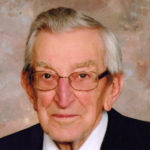 93
Sioux Center, Iowa
September 24, 2018
Melvin Schuiteman, 93, of Sioux Center, Iowa, died Monday, Sept. 24, 2018, at Royale Meadows Care Center, Sioux Center.
Memorial service was Monday, Oct. 1, at First Reformed Church, Sioux Center.
Melvin Schuiteman was born May 5, 1925, in Sioux Center to William and Dena (Kempers) Schuiteman. He grew up and attended country school near Sioux Center.
On Dec. 16, 1949, he married Wilmina Kroese of Hull, Iowa. They farmed near Sioux Center and also provided 40 years of cleaning services for several businesses. He moved to Royale Meadows in June 2018.
Survivors include his wife; six children, Helen (Rod) Beukelman of Sioux Center, William (Irene) Schuiteman of Sioux Center, Donna (Greg) Koerselman of Hospers, Iowa, Laura (Arlin) Byker of Sioux Center, Carol (Harlan) Rozeboom of Sioux Center and Jan (Marlyn) Post of Sioux Center; 22 grandchildren; 20 great-grandchildren; three sisters-in-law, Clara (Alfred) Hoogland, Julianne (John) Kats and Joyce (Harold) DeVries and many nephews and nieces.
He was preceded in death by his parents; parents-in-law, John and Helen Kroese; six grandchildren; brother and sister-in-law, Arthur and Alice Schuiteman; sister and brother-in-law, Anna and Gerrit Meyer; sister-in-law and brother-in-law, Hilda and Joe Mouw; brothers-in-law, Alfred Hoogland, John Kats and Harold De Vries;