Margaret Bosma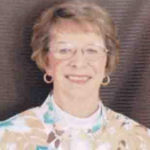 80
Sheldon, Iowa
November 11, 2018
Margaret Bosma, 80, of Sheldon, Iowa, passed away Sunday, Nov. 11, 2018, at Sanford Sheldon Medical Center.
Funeral service was Saturday, Nov. 17, at First Presbyterian Church, Hospers, Iowa, with interment in Hospers Cemetery.
Margaret JoAnn Boone was born Jan. 18, 1938, in Sanborn, Iowa, the daughter of Charles and Jeanette (Andringa) Boone. She was raised in Sanborn and enjoyed California for a short time while her father was stationed there. She attended Sanborn Christian School and Western Christian Academy in Hull, Iowa, where she graduated.
On Oct. 14, 1960, she married Erwin Bosma in Sanborn. They farmed east of Hospers. Erwin passed away March 28, 2009. In 2010, she moved into Sheldon. She was an operator at the Northwestern Bell Telephone Co. in Sheldon several years.
Survivors include a stepdaughter, Rebecca Roby of Mesa, Arizona; two stepgranddaughters; four sisters-in-law and a brother-in-law, Doris Bosma of New York, Betty, (Robert) Pekelder of Sheldon, Sophia LeMasurier of Cherry Valley, California, Joe (Mary) Bosma of Sioux Center and Lori Muilenburg of Sheldon; and many nephews and nieces.
In addition to her parents and husband, she was preceded in death by two brothers-in-law, Clarence Bosma and Harry Bosma; and seven sisters-in-law, Winnie Blom, Grace Boer, Jeanette Bosch, Ruth Crawford, Clara Roos, Sadie Vander Weide and Margaret Wallick.