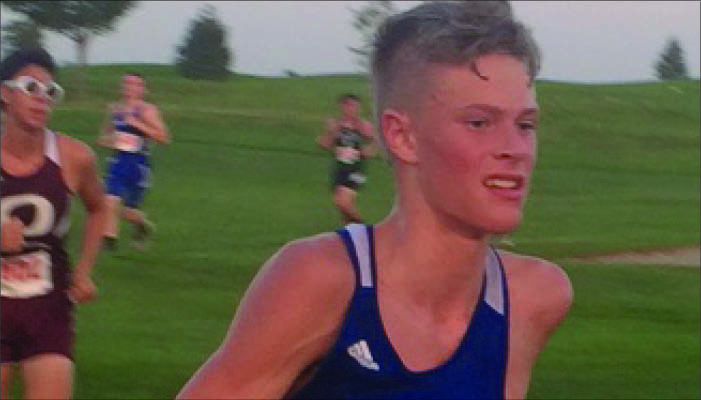 SIOUX CENTER-The Sioux Center cross-country invitational at The Ridge Golf and Country Club Thursday, Sept. 21, was the biggest and most talented field of runners Western Christian, Boyden-Hull/Rock Valley and Trinity Christian would see this 2017 season.

That said, the Wolfpack, Nighthawks and Tigers felt good about certain areas of their team and learned where they need to improve for the second half of the season.

There were a couple ranked teams in the girls' field, including Class 2A ninth-ranked Unity Christian, Class 3A ninth-ranked Sioux City Heelan and Class 2A 11th-ranked Western Christian along with 11 other full teams. In the end, the Wolfpack claimed ninth place with 213 points. The Crusaders took the team title with 25 points.

"I wish we would have finished higher. It wasn't where I was hoping we would finish, despite it being a big meet, but when you look at the competition there was a lot of good competition there," said Western Christian coach Dalton Lems.

Leading the way for the Wolfpack was Sydney Stiemsma in 27th, Whitney Minderhoud took 31st and Mary Kate Postma in 43rd.

"They all did a good job. They all moved up pretty well throughout the race and were able to hold their positions at the end," Lems said.

Where Lems would like to see his team improve is with the final two runners. Rachel Heynen finished 60th and Marissa Driesen finished 87th.

"We've got to get our four and five up there a little bit yet. In order to decrease some of our higher point totals, our girls have to be a little more stubborn and get up there with some of those girls," Lems said.

The Boyden-Hull/Rock Valley girls' team continues with three runners, but those three continued to impress. Lizzy Blum was the highlight with a fifth-place finish.

"Lizzy went out and ran extremely well. She got up there with that front pack and just stayed there," said coach Tim Brunsting.

Rounding out the final runners for the Nighthawks were Emily De Ruyter in 24th and Mallory Nilles in 56th. Brunsting had high praise for Nilles in what was her second varsity race of the season after running in the West Lyon invitational Monday, Sept. 11.

"I thought she ran really well. It's overwhelming when you see that many girls in a race, but I thought she held her own. She did a nice job, learned a little bit about a big meet and that's what we're going to see in the next few weeks," Brunsting said.

Heather Van Engen led the Trinity Christian girls in 75th with Brooke Van Engen claiming 83rd.

The boys' side of the meet had Class 2A top-ranked George-Little Rock/Central Lyon, Class 2A fourth-ranked Sioux Center, Class 2A seventh-ranked Unity Christian, Class 2A 12th-ranked Sheldon, Class 2A 15th-ranked Okoboji and Class 3A 11th-ranked Sergeant Bluff-Luton. Despite all those teams being there, coach Lems did not want to make too many excuses for the Western Christian boys taking fifth place with 172 points. The top-ranked Mustangs claimed first with 45 points.

"Again, I wish we could have finished higher. Like the girls, there was a lot of talent but we can't use that as an excuse to not go out and compete at that level and with the talent that was out there," Lems said.

Jonathan Veldman, who is ranked 16th in Class 2A individually, finished 13th. Zach Elbers, who is ranked 15th in Class 2A, finished 18th. The next few runners were Michael Van Den Top in 45th, Andrew Cox 47th, Carson Elbers 52nd, Jeff De Kam 77th and Collin Westra 114th. Lems said he wants that gap to shrink.

"I would definitely like the third through seventh guys to be a little bit closer. It's kind of hard to create a strategy for what they have to do, they just need to go out there and run," Lems said.

The Boyden-Hull/Rock Valley boys finished 11th with 322 points.

"When you look at it there are 20 teams, but if you look at the individual spots, I would have liked to have been in the top 10," Brunsting said. "But you look at the teams that are there you are talking Spencer, George-Little Rock/Central Lyon, Western and Heelan. There are a lot of other big schools that are going to take up spots."

Brunsting felt his team is still capable of competing with those teams as long as the Nighthawks continue to work on running closer together. Marco Lopez was the top runner for Boyden-Hull/Rock Valley in 31st. Dayton Brunsting was 44th, Caleb Westra 82nd, Kayden Top 85th, Logan Moore 91st and Brody Woelber 100th.

"Dayton runs and finishes 44th and then our next person doesn't come in until 82nd, so those are things we obviously need to work on because there is a little bit over a minute between Dayton and Caleb," coach Brunsting said.

The Trinity Christian boys finished 14th as a team with 371 points.

The Tigers were led by Sam Laning with a 41st-place finish, Caleb Meyer with a 63rd-place finish, Dallas Van Ginkel in 68th, Braxton Brummel 99th and Luke Andringa 108th.

Trinity Christian coach Dillon Brummel did not provide comments prior to the press deadline.

Sioux Center cross-country meet at The Ridge Golf and Country Club
Girls' team results:1. Sioux City Heelan 25, 2. Spencer 54, 3. Lennox, South Dakota 131, 4. Sergeant Bluff-Luton 146, 5. Unity Christian 147, 6. George-Little Rock/Central Lyon 169, 7. West Lyon 175, 8. Okoboji 204, 9. Western Christian 213, 10. South O'Brien 257, 11. Cherokee 276, 12. Sioux City West 300, 13. MOC-Floyd Valley 335, 14. LeMars Gehlen Catholic 377.

Individual girls' results:5. Lizzy Blum (BHRV) 21:43, 24. Emily De Ruyter (BHRV) 23:17, 27. Sydney Stiemsma (WC) 23:29, 31. Whitney Minderhoud (WC) 23:43, 43. Mary Kate Postma (WC) 24:36, 56. Mallory Nilles (BHRV) 25:31, 60. Rachel Heynen (WC) 25:47, 75. Heather Van Engen (TC) 27:11, 83. Brooke Van Engen (TC) 28:41, 87. Marissa Driesen (WC) 29:21

Boys' team results:1. George-Little Rock/Central Lyon 45, 2. Sergeant Bluff-Luton 105, 3. Sioux Center 124, 4. Lennox, South Dakota 155, 5. Western Christian 172, 6. Unity Christian 212, 7. Sheldon 222, 8. Spencer 223, 9. Sioux City West 249, 10. Okoboji 250, 11. Boyden-Hull/Rock Valley 322, 12. Storm Lake 323, 13. MOC-Floyd Valley 370, 14. Trinity Christian 371, 15. Sibley-Ocheyedan 372, 16. Sioux City Heelan 402, 17. LeMars Gehlen Catholic 419, 18. South O'Brien 426, 19. Cherokee 457, 20. West Sioux 575

Individual boys' results:13. Jonathan Veldman (WC) 18:20, 18. Zach Elbers (WC) 18:31, 31. Marco Lopez (BHRV) 18:55, 41. Sam Laning (TC) 19:04, 44. Dayton Brunsting (BHRV) 19:08, 45. Michael Van Den Top (WC) 19:09, 47. Andrew Cox (WC) 19:10, 52. Carson Elbers (WC) 19:15, 63. Caleb Meyer (TC) 19:25, 68. Dallas Van Ginkel (TC) 19:30, 77. Jeff De Kam (WC) 19:59, 82. Caleb Westra (BHRV) 20:15, 85. Kayden Top (BHRV) 20:22, 88. Marcus Kelderman (BHRV) 20:26, 91. Logan Moore (BHRV) 20:30, 99. Braxton Brummel (TC) 21:00, 100. Brody Woelber (BHRV) 21:01, 108. Luke Andringa (TC) 21:22, 114, Colin Westra (WC) 21:49