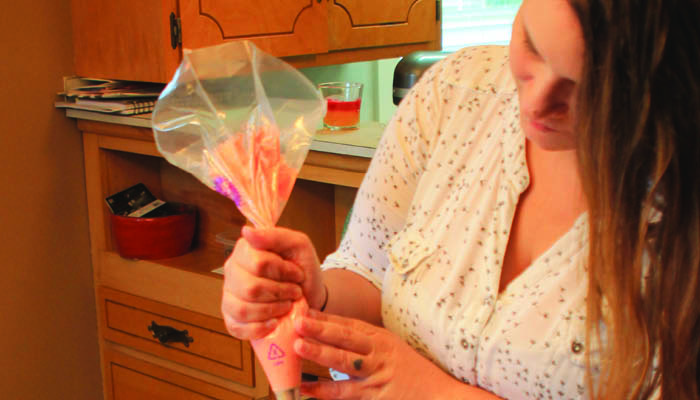 Temptation is the name of the game for Carla Hulstein of Hull. Her new business, Carla's Sweet Temptations, does just that — tempt you. Hulstein started the business because she loves to bake. "I've always liked baking since I was little," she explained.
Hulstein's creative talent is shown in cupcakes decorated in a variety of themes. Although there's no special ingredient, she's tweaked a lot of recipes throughout the years that make them uniquely her own. These recipes can`t be found on the internet.
Although most of Hulstein's experience has been self-taught, her great grandpa, Bickel was a baker. She keeps a few of his prized cookbooks. "I think it's just in my blood because I'm always baking," she said. Hulstein started baking and decorating cakes at around 11 years of age, yet has never worked as a baker, but did decorate donuts in a donut shop for a while.
Holstein grew up in Evansville, Indiana. She met her husband, Dan, online three years ago and moved here a year after they met. Dan's business, Hulstein Hoof Care, keeps him busy, and he also helps run the family dairy. The couple is expecting their first child at the end of July.
Previously, Hulstein worked as a dietary supervisor, but the 70- to 80-hour weeks were not fun. "I didn't want to do that; I was there all day every day," she said. That's when Carla's Sweet Temptations began.
Her cupcakes come in several different flavors and she decorates them for any occasion. "I like to do all the squirt icing and drizzle and make them look gourmet," she said.
Sometimes with a larger order, Hulstein will call on her mother-in-law, Marge Hulstein, for help. "She's my go-to person," she explained. Hulstein makes the cupcakes ahead and freezes them to decorate later.
Although her specialty is fancy cupcakes, she's also decorated cakes, cookies, bars, pies and more She also enjoys making Christmas goodies. Her carrot cake is made from scratch with freshly-grated carrots. "It's a lot of work, but so delicious," she said.
For those with allergies, her egg-free and dairy-free cupcakes are good options. She's also working on getting some gluten-free recipes put together for gluten-intolerant customers.
Hulstein would eventually like an industrial kitchen and wants to become licensed. She's also interested in doing specialty cheesecakes.
Check her Facebook page, Carla's Sweet Temptations, for some mouth-watering examples of all her baked goods.