Leon Koele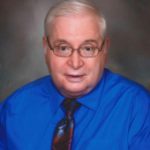 80
Sheldon, Iowa
July 12, 2018
Leon Koele, 80, of Sheldon, Iowa, passed away July 12, 2018.
Funeral services were Thursday, July 19, at First Reformed Church, Sheldon, with interment in Hope Cemetery, Hull.
Leon Harvey Koele was born Oct. 7, 1937, near Hull to Arie and Henrietta (Heemskerk) Koele. He graduated from Hull High School in 1956 and obtained an associates degree from Northwest Business College in Sioux City, Iowa. He worked as a bookkeeper for Fredrickson Grain Co, in Meriden, Iowa. as a bookkeeper.
On June 21, 1957, he married Evelyn Horstman. In June 1965, he purchased an accounting business in Sheldon where they subsequently moved. He sold and retired from his accounting practice in 2007.
Survivors include his wife; two sons, Carey (Kimberly) of Holland, Michigan, and Carl (Raquel) of Haslet, Texas; five grandsons; sister, Marilyn (Merrill) Vander Schaaf of Pattonville, Texas; two sisters-in-law, Judy Koele of Pella, Iowa, and Becky Koele of Aurora, Colorado, numerous nieces, nephews, relatives and friends.
He was preceded in death by his parents; brothers, Arnie and Calvin, and three infant children.