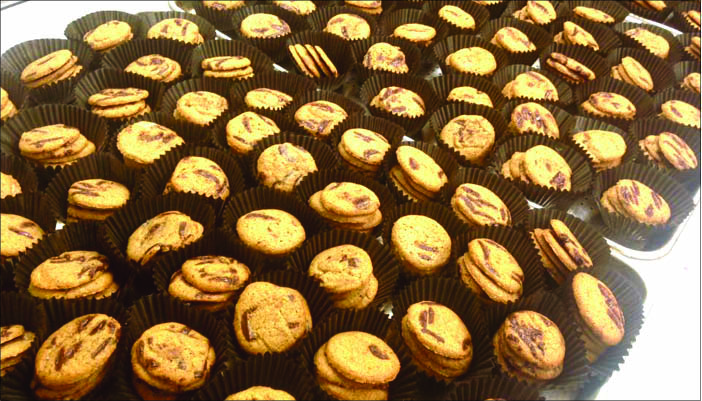 Building Homes for Heroes is near and dear to Sylvia Van't Foort's heart. The organization supports disabled veterans that have served in the wars of Iraq or Afghanistan and the owner of Le Meilleur Bakery & Barista in Hull wanted to help.
Van't Foort is combining her baking talents with the initiative to support the worthwhile cause. "The goal is to raise $1.2 million for Building Homes for Heroes to build 12 homes. We're doing that by our cookie boxes," Van't Foort noted. "You get 24 fresh-baked mini chocolate chip cookies in a box." The cookie campaign began in January and she expects to continue the promotion throughout 2017.
The boxes can be ordered online atwww.supportthehomefront.com, by calling Van't Foort, 712-439-1062, or by stopping at the bakery, 521 Black Forest Road.
Van't Foort's time is donated, and the only costs are the ingredients. Everything that's earned from the sale of cookies goes to the initiative. The bakery gains only the satisfaction of helping out.
The Building Homes for Heroes program builds homes while also rebuilding the lives of those who've selflessly served the country and are dealing with disabling physical and psychological conditions. In 2015, the program gifted 28 mortgage-free homes, and remodeled and completed construction on 12 additional homes. Some homes are built from scratch and some are modified to meet the needs of the disabled veterans.
Since it's beginning, the number of gifted homes has gradually climbed from two homes in 2010 to around 35 homes in 2016. In 2017 the organization is hoping to gift 45 homes.
Building Homes for Heroes' goal is to make a difference in the lives of wounded American Service members and their families, alleviating financial burdens, restoring the family's freedom, and enabling veterans to lead more independent and productive civilian lives. Being a recipient of a home allows veterans to define themselves by their accomplishments and activities, and not their injuries or disabilities.
"We've got to start somewhere," Van't Foort challenged. "I just want to help more people and this was the only way I could get a wider reach and I just want to give back to them. I'm just super excited for this!"