LaVonne Hollander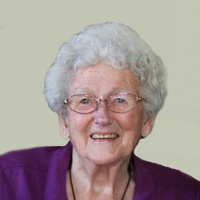 84
George, Iowa
July 24, 2018
LaVonne Hollander, 84, of George, Iowa, died Tuesday, July 24, 2018, at George Good Samaritan Society.
Funeral service was Friday, July 27, at St. John Lutheran Church, rural Boyden, Iowa, with interment in the church cemetery.
LaVonne Meyn was born March 1, 1934, in Sheldon, Iowa, the daughter of August and Elfrieda (Stegemann) Meyn. She grew up near Boyden and attended Sheldon High School, graduating in 1952.
On Aug. 27, 1954, she married Wilbert Hollander. They farmed near Boyden. In 1992, the couple moved to George. She helped on the farm and worked at Sheldon Sun newspaper, Kats Hardware, Northwest Iowa Community College in Sheldon and served as a hostess at Good Samaritan Nursing Home in George. Her husband died March 18, 2008. She entered Good Samaritan Society in George March 17, 2016.
Survivors include her daughter, Sheryl (Warren) Tiedeman of George; two sons, David Hollander of George and Darren Hollander of Boyden; a son-in-law, Mark Halverson of Linn Grove, Iowa; seven grandchildren; 12 great-grandchildren; sister, Carol (Gilbert) Geerdes; sisters-in-laws, Lois Hollander of Boyden, Elsie Kruse of Worthington, Minnesota, and Deanna Tiedeman of Hull, Iowa, and brother-in-law, Lyle (Lorna) Hollander of Boyden.
She was preceeded in death by her parents; her husband; a daughter, Cindy Halverson; sister, Eleanor Hector; sister-in-law, Lucille Engle, and two brothers-in-law, Waldo Hollander and Albert Kruse.