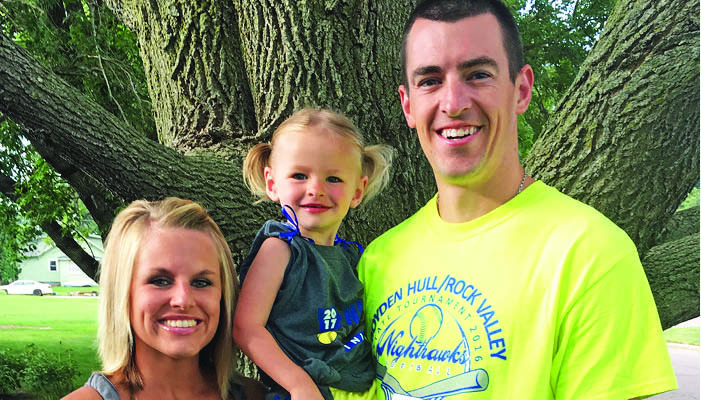 Last week, Jordan Kerr joined the Rock Valley Police Department as one of six full-time officers in that organization.
The 28-year-old has spent the last six years serving with the Hartley Police Department and was appointed the police chief in April. But he's looking forward to the new location.
"I was ready to serve on a larger town's police department," he said. "I enjoyed the community of Hartley and getting to know everyone, but I was always on call because the town only has two police officers. That gets kind of old."
Kerr also wanted to live closer to relatives and have more time to spend with his family.
His parents, Tom and Sherri Kerr, live in Hull. His wife, Ashley, grew up in Boyden, the daughter of Scott and Mary Beth Johnsen. Ashley teaches kindergarten in Sheldon. The couple has a 2-year-old daughter, Hadley.
Kerr graduated from Boyden-Hull in 2007 and then received degrees in justice administration, business and criminal justice from Southwest Minnesota State in Marshall, Minnesota. He joined the Hartley police force in 2011 and also attended the Iowa Law Enforcement Academy.
He's wanted to work in law enforcement since the fifth grade.
"At that time we were living in Brandon, South Dakota, and my dad was coaching with another guy who was a police officer. He talked about how much he liked his job and that just stuck with me," said Kerr.
Following that career path was the right decision.
"I love my job," he stated. "It's got something different every day. I like helping people, whether it's someone who's been the victim of a crime or somebody who has locked their keys in their car. I like talking to people and being out in the community and not stuck in an office."
Small towns provide a lot of variety for police officers. Kerr described his first job as an eye-opening experience.
"I was surprised by all the calls you deal with in a small town," he said. "But that's what I love about it too. Rock Valley is a larger town with more diversity than Hartley, so I'm looking forward to what I'll learn there."
Kerr and his family will move to Rock Valley after they sell their house in Hartley.