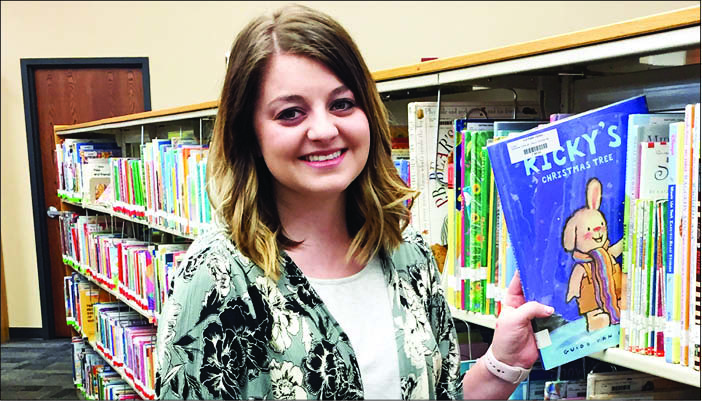 Helping kids discover and develop a love for reading brings a smile to the face of Kerrigan Kats.
The daughter of Shad and Missy Kats, Hull, and a 2015 graduate of Western Christian, Kats is the summer reading director at the Hull Public Library for 2017.
"I just love the spark that kids get when they read," she said. "A whole new world opens to them through reading."
An elementary education/special education major at Dordt College, Kats knows the importance of good reading skills.
"As a future teacher, I know how important it is for kids to keep reading over the summer," she said. "I think the summer reading program will be lots of fun and I look forward to encouraging kids to read."
This year's summer reading theme is "Build a Better World" and is offered for kids finishing preschool through sixth grade.
Students will explore the concepts of construction, conservation and innovation through activities. The library will offer crafts, games and presentations that help improve children's reading and comprehension skills.
Registration for the program will be at the library Wednesday, June 7, from 12:30-3:30 p.m. and Thursday, June 8, from 9:30-11:30 a.m. and 12:30-1:30 p.m. Anyone interested who is not available on those dates is invited to register early at the library.
"Kids will love all the activities we've got planned at the library," added Kats.
The Hanson Family jugglers and storytellers are scheduled for June 7; the Great Plains Zoo on June 20; the Sioux County Conservation Summer program with Sunday Ford on June 29 and a magician on July 21.
Kids can earn prizes for the books they read and finish the six-week program with a pool party at the Hull pool.
"Last year more than 230 students participated in the summer reading program. I hope we have even more this year and I'm looking forward to helping them all become better readers," stated Kats.
Kats can be reached through the Hull summer reading program Facebook page or by email – kerrigan.kats@gmail.com, or 712-470-3247.