Kathryn Krull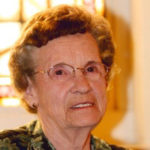 94
George, Iowa
October 18, 2018
Kathryn Krull, 94 of George, Iowa, died Thursday, October 18, 2018, at Good Samaritan Society, George.
Funeral services were Monday, Oct. 22, at Jurrens Funeral Home, George, with interment in Evergreen Lawn Cemetery, George.
Kathryn Korthals was born June 14, 1924, in Boyden, Iowa, the daughter of Leonard and Bertha (Evink) Korthals. She was grew up in Boyden and attended country school in the Boyden area.
On July 21, 1942, she married Fred H. Krull. They moved to George. Her husband died Jan. 7, 1990. On Aug. 22, 2013, she entered Good Samaritan Society of George.
Survivors include two children, David (Mary Leigh) Krull of Kansas City, Kansas, and Becky Krull of Sioux Falls, South Dakota; two grandsons; six great-grandchildren and many other family members.
She was preceded in death by her parents; husband; daughter, Sandra Lee Krull; three brothers, Hank, Garret and Lawrence, and three sisters, Frances Freerks, Effie Green and Cornelia Van Westen, and all of their spouses.