June Den Hartog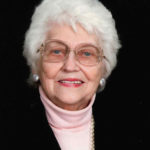 94
Sheldon, Iowa
January 5, 2019
June Den Hartog, 94, of Sheldon, Iowa, died Saturday, Jan. 5, 2019, in Sanborn, Iowa.
Funeral service was Wednesday, Jan. 9, at Sheldon United Methodist Church with interment in East Lawn Cemetery, Sheldon.
June Maxine Kwikkel was born June 16, 1924, to William Kwikkel and Tena (Seefus) Kwikkel. She grew up in Boyden and graduated from Boyden High School.
On Sept. 16, 1942, married Elmer Den Hartog. The couple moved to California before returning back to Iowa in 1943, so her husband could enlist in the Army Air Corps. While he was based in Italy, she worked in Omaha, Nebraska. When he returned from service, they lived in Boyden and later moved to Sheldon. She worked at Sheldon hospital and nursing home as an aide and doing physical therapy and later at Wolff's Department Store.
Survivors include three children, Pam Den Hartog, Patric Den Hartog and Craig (Patricia) Den Hartog and his wife, Patricia; seven grandchildren; four great-grandchildren and asister-in-law, Florence Kwikkel
She was preceded in death by her parents; husband; daughter, Patrice Den Hartog; a brother, Billy Kwikkel, and a sister, Lucille Diekevers.