Johanna Herweyer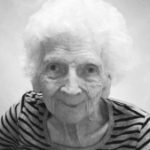 93
Sioux Center, Iowa
December 5, 2018
Johanna Herweyer, 93, of Sioux Center, Iowa, passed away Wednesday, Dec. 5, 2018, at Pleasant Acres Care Center, Hull, Iowa
Funeral service was Monday, Dec. 10, at Oolman Funeral Home, Orange City, Iowa, with internment in West Lawn Cemetery, Orange City.
Johanna Dorothy Rens was born Dec. 31, 1924, in Orange City, the daughter of Gerrit and Winnie (Kleinwolterink) Rens. She was raised in Sioux Center where she attended school.
On Feb. 7, 1945, she married Frederick Herweyer in Sioux Center. The couple moved to Wisconsin while he was enlisted in the U.S. Army, and finally settled in northwest Iowa. They spent about half of their married life in Orange City and half in Sioux Center. Her husband passed away July 7, 1987. She moved to Pleasant Acres Care Center in August 2016.
Survivors include two children, Wanda (Robert) Wichers of Orange City and James (Deb) Herweyer of Northwood, Iowa; six grandchildren; 14 great-grandchildren; 10 great-great-grandchildren and a sister-in-law, Henrietta Daale.
She was preceded in death by her husband; parents; a sister, Hermina (Tony) Heynen; and numerous brothers-in-law and sisters-in-law.