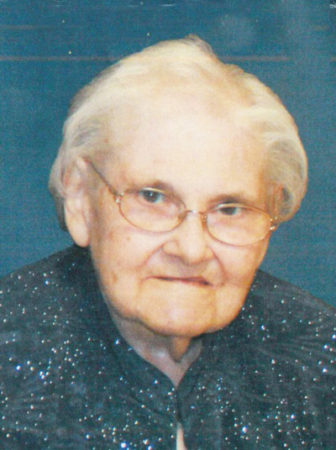 Joanne Winter
84
Boyden, Iowa
March 3, 2019
Joanne Marie Winter, 84 of Boyden, Iowa, died Sunday, March 3, 2019, at Orange City Hospital, Orange City, Iowa.
Funeral service was Saturday, March 9, at St. John Lutheran Church, rural Boyden, with interment in the church cemetery.
Joanne Kruse was born Feb. 4, 1935, near Boyden, the daughter of Heinrich A. "Heine" and Elsie (Hundt) Kruse. She attended school in Matlock, Iowa, and graduated from Sheldon High School.
On June 5, 1953, she married Elmer Winter. While he served in the U.S. Army, they lived in Manhattan, Kansas, El Paso, Texas, and Leesville, Louisiana. After his discharge from the service, they returned to the Matlock area and they began farming. They moved to the Winter family homestead farm northwest of Boyden in the 1960s. She worked at Brinkman Egg Co., Sheldon Hotel and for the Lowell and Anne Woelber family. In later years, she was employed at Sudenga Industries Inc. and at George Good Samaritan Nursing Home.
Survivors include her husband; three sons, James (Mary) Winter of George, Iowa, Donald (Mary Jo) Winter of Harrisburg, South Dakota, and Wayne Winter of Boyden; six grandchildren; four great-grandchildren; two brothers, Roger (LaDonna) Kruse of Matlock and Larry (Sherri) Kruse of Boyden; two brothers-in-law, Lawrence Modder of George and Erwin (Carol) Winter of Montevideo, Minnesota; and many nieces, nephews and other extended family.
She was preceded in death by her parents, an infant brother, Donald Kruse, and a sister, Lorna Modder.