James De Kam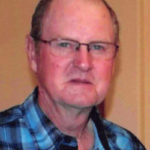 70
Rock Valley, Iowa
November 20, 2018
James De Kam, 70, of Rock Valley, Iowa, died Tuesday, Nov. 20, 2018, at his residence.
Funeral services were Monday, Nov. 26, at Doon United Reformed Church with interment in Valley View Cemetery, Rock Valley.
James Allan De Kam was born May 12, 1948, in LeMars, Iowa, to Clarence and Jennie (Bakker) De Kam. He attended Rock Valley Christian School and graduated from Western Christian High School.
On May 22, 1968, he married Marjorie Boer. The next day he left with the activated national guard for Fort Carson, Colorado, where they lived 16 months. Then they moved to a farm northeast of Rock Valley. To this union, they were blessed with eight children.
Survivors include his wife; eight children, Kenneth (Laura) De Kam of Belton, Missouri, Clifford (Sara) De Kam of Doon, Iowa, Patricia (Kelly) Haak of Rock Valley, Rodney (Twila) De Kam of Rock Valley, Sandra (Chad) Breuer of Hull, Iowa, James (Alisa) De Kam of Doon, Steven (April) De Kam of Rock Valley and Maria (Alex) Van Den Top of Hull; 18 grandchildren; four sisters, Nelva (Pete) Pollema of Hull, Fran (Myron) Moss of Sioux Center, Iowa, Judy (Marlin) De Noble of Hills, Minnesota, and Helen (Brad) DeVries of Sioux Center, Iowa; mother-in-law, Verna Boer of Rock Valley; three brothers-in-law, Keith (Doris) Boer of Rock Valley, Les (Pam) Boer of Sioux Falls, South Dakota, and Bill B. (Aletha) Boer of Sibley, Iowa; one uncle, five aunts and numerous nephews and nieces.
He was preceded in death by his parents, one granddaughter and father-in-law, Wilbur Boer.